4:00 minutes reading time
Changes in consumer behaviour have a fundamental impact on production. The increasing demand for customization makes conventional assembly line production obsolete. What's needed today are interconnected, flexible technologies to enable customized serial production and bring goods to consumers faster. Learn more about how this can be achieved and which technologies KNAPP uses to enable smart production in this blog post.
The customer is king
Customization is a crucial asset in today's world. Regardless of whether consumers are looking to buy running shoes, a fizzy beverage, medication or a car – today, everything can be customized to suit their individual needs and wishes. As a result, no two items are the same and countless versions need to be produced to fulfil these individual wishes.
"
"
The magic word for the future is 'demand-driven production'. We see that today's consumer behaviour has a significant impact on production – more than ever, consumers want their goods to be individually configured according to their wishes. Unlike in the past, items are now mainly produced as needed. In order to supply these new production lines, dynamic systems are needed with stronger integration and interconnection between production and logistics.
Customized serial production is key
Whereas in the past, production companies manufactured items in advance and in batches, today it's the consumers who set the pace. Planning is therefore much more difficult and the manufacturing processes need to be a great deal more flexible. The answer is smart production – customized serial production based around smart integrated processes.
Smart data is the foundation for success
Today it's not just flows of goods that need to be efficiently coordinated, but data flows too. Now, the right information has to be available for every component or item in each process step. For this reason, a fully integrated software solution serves as the brain of smart production. All the various technologies in use constantly gather information that is then pooled in a cloud. The software converts this information into smart data, which it then provides to the right user, at precisely the right time. This is incredibly useful in areas such as resource planning and predictive maintenance, for example.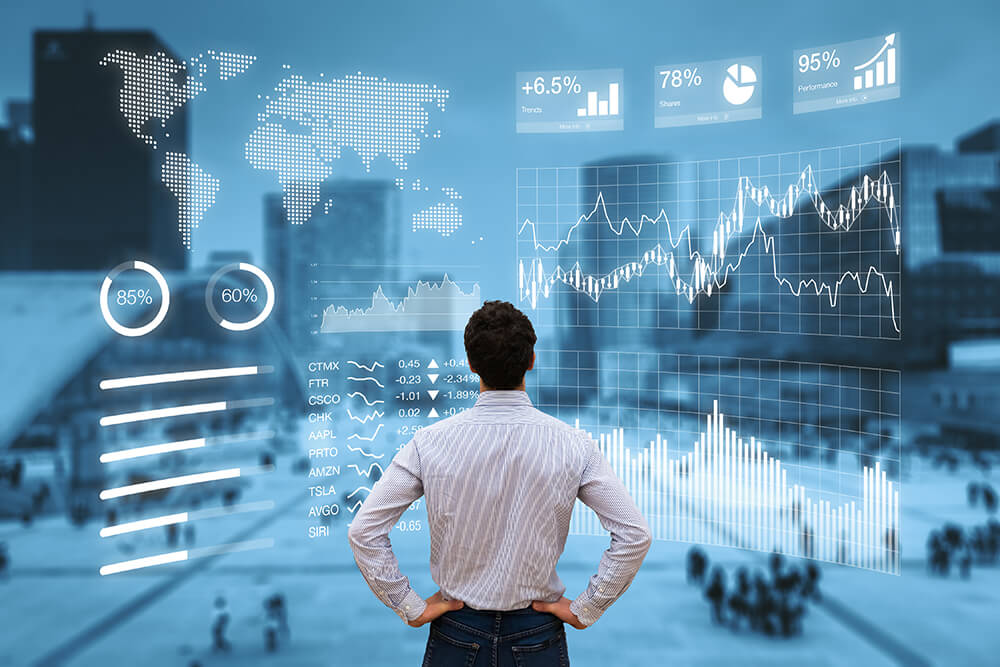 Integrated system provides unprecedented flexibility
Where can we store all raw materials, semi-finished and finished products, as well as deliveries? How can temporary work stations and production lines be interconnected and supplied with items flexibly? A central automated storage system is at the heart of smart production. Intelligent autonomous mobile robots (AMR) supply diverse work areas just-in-time and just-in-sequence. Thanks to their in-built swarm intelligence, the AMRs communicate with each other and assign tasks among themselves. As a result, smart production offers an unprecedentedly flexible process landscape.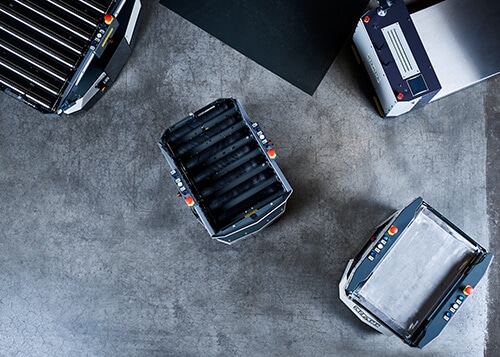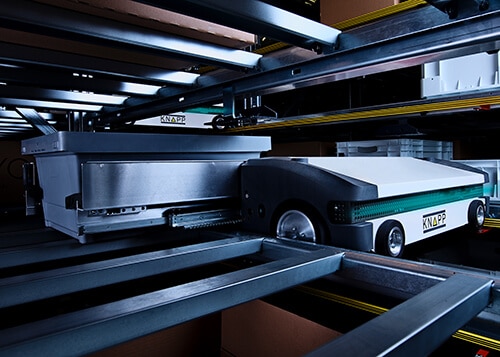 Artificial eye for all-encompassing quality assurance
Each item is produced individually and every consumer expects perfect quality. What's more, it must be possible to trace each part through every process step. This zero-defect goal is achieved with the help of smart software combined with image recognition and image processing technology. These technologies are modelled on the perfect design of the human eye, but with one key difference – they never get tired. As a result, errors are either avoided altogether or detected and corrected early, saving both time and money.
Coffee or software update? Humans and technology – the team of the future
So where do people come into play in smart production? Production areas are already characterized by automated production lines. Heading into the future, teamwork between human workers and smart technologies will be needed to meet new demands. While robots take care of monotonous and strenuous work, and smart software assists in processing and displaying the enormous volumes of data, humans will be smart workers – who use their problem-solving skills and creativity to act as the decision-makers in production. The unmatched human fine motor skills mean that workers will be responsible for maintaining machines and assembling complex items with the support of intelligent personal assistance systems. These new tasks call for skilled workers, meaning today's job is to inspire youngsters to start training in this field.
"
"
I am sure that in 10 years, it will be normal to have a robot as a colleague. In this respect, it is important to get everybody on board and make it clear that such robots are not the competition, but will instead make their work easier.
Going back to the consumers
Of course, it's to be expected that consumers don't want to wait long for their customized goods, which means fast production and delivery are imperative. Therefore, the smart production of the future will have moved back to highly industrialized countries to be closer to consumers. New procedures such as 3D printing will also be firm fixtures of smart production.
"
"
I see flexibility as the big chance to keep production operations in high-wage regions such as Europe or the USA, or even bring them back there. Thanks to the flexibility of new technologies, it is no longer necessary to farm out work to low-wage countries and transport goods all the way back to Europe or to the USA. This will bring about a significant change in the supply chain. Over the medium term, this change will, in my view, be intensified by the opportunities that 3D printing brings. With 3D printing, developments for the customer can be manufactured more locally, quickly and flexibly with mass customization possible.
Smart production – reality check
Turning a vision into a reality. Today, a number of companies in diverse sectors are already relying on our smart technologies for their smart production.
Would you like to learn more about these companies?
Visit us on Youtube and find out how companies such as Pankl Racing Systems, implantcast or Terberg Benschop B.V. have implemented smart production.
4:00 minutes reading time
Additional Information
Would like to learn more about our solutions on the topic of smart production? Click here to find out more about our technologies and references. At KNAPP, we look forward to discussing ideas and requests with you to create new solutions. Write to us at blog@knapp.com.