How automated warehouse management can help
Order it online – pick it up at the store. Try it on in the store – buy it online. Have it delivered home – return it to the store. Buy it in the store – collect sold out goods at a pickup station. Since taking their first careful steps in e-commerce ten years ago, many retailers have developed sophisticated omnichannel strategies to satisfy the market's demands for speed, precision and full accessibility to the entire product range. But what does linking online and offline retail mean for the logistics running in the background – and consequently for the warehouse management? How can a well thought-out automated solution boost your operations' effectiveness?
What does omnichannel logistics mean?
Let's begin by shedding some light on the term omnichannel. Ten years ago, the term multichannel was used to describe business models aimed at combining in-store and online retail. Multichannel retail focused on offering customers multiple channels to do their shopping. Each channel came with its own separate process.
In contrast, omnichannel retail is defined as retail that merges all sales channels into a single process. From the point of view of the customer, they have access to the entire product range and all options for order, delivery and returns, regardless of the channel they engage in. In this type of retail, the customer's shopping experience is at the forefront along the entire supply chain.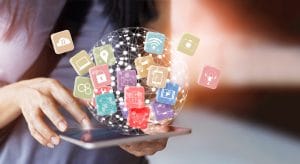 For logistics, omnichannel strategies set a higher bar and increase complexity.
Deliveries and returns to the store and deliveries to end customers require completely different processes, which have to be covered by a single system that controls everything.
In addition, the market demands shorter transit times while global competition is impacting profit margins.
All these factors are putting pressure on the logistics chain, with the warehouse management being no exception.
Omnichannel retail is shaking up warehousing so everything has to be reconsidered from location and construction, to the processes and how to best use employees.
What does omnichannel retail demand of warehouse logistics?
The traditional retail warehouse where goods arrive in boxes and are carried around using forklift trucks to be distributed to stores by trucks no longer fits the bill. But this is also true of the fully automatic warehouses commonly used by online giants. To keep the promise of flexible omnichannel shopping, retailers need to unite both aspects in one warehouse – at the same time.
Capacity for different processes to run in parallel
In an omnichannel warehouse, the processes for store delivery and online retail, which are completely different, have to take place in the same space. The warehouse system has to be able to handle and optimize both types at the same time.
Strong focus on effective order filling and packaging
The larger a retailer's online segment, the more individual items have to be processed, making the process of filling and packing orders more complex. This in turn is more strenuous and more personnel is required.
Ability to adapt to the seasonal fluctuations
If fewer goods are delivered to store warehouses and more to consumers directly, the difference between peak and off-peak seasons is greater. There are many store warehouses that can't keep up with the demand on Black Friday and the weeks before Christmas, but that have a lot of free capacity during the rest of the year.
Local warehouse or central fulfillment center?
Using a central and highly automated storage system means that items are handled incredibly effectively. However, the desire for same-day delivery is an advantage that the local warehouse close to the customer can best deliver. The line between store and warehouse processes has also been blurring thanks to so-called dark stores, in-store pickup stations and the acceptance of online order returns at stores.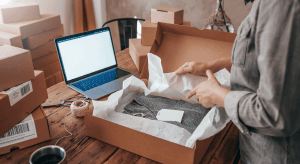 What is driving investments in warehouse automation?
There is consensus among experts from all over the world that warehouse automation is one of the most important global trends in logistics. Many retailers have made large-scale investments. Why, you ask?
One explanation is how online retail has changed over the past years. During the first years of online retail, only few orders were made online, which were manually processed by multiple employees in a spare corner of a warehouse. As sales started to grow, the entire fulfillment process was outsourced to 3PL providers who mostly handled the orders manually. For many companies today, 3PL has become too expensive, customer experience too crucial to generating turnover, and the order volumes so overwhelming that investing in their own warehouse management system is worth the cost. This development has also been accelerated by the COVID-19 pandemic.
Another factor is the availability of personnel. If warehouse operations increasingly revolve around filling and packing orders, the need for personnel grows. Considering today's shortage of qualified warehouse workers, this gap is hard to fill. In the UK, for example, investment in warehouse automation has skyrocketed due to the lack of personnel caused by Brexit.
In Scandinavia, on the other hand, labor costs play a crucial role. The wages of warehouse workers in Sweden are often twice as high as those of workers employed in low-income countries. At the same time, the demand for fast delivery and the processing of individual items makes moving warehouse operations abroad difficult.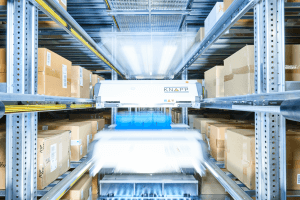 What do you need to do to ensure that your automated warehouse management runs smoothly?
Here are four useful tips to help you find the right automation solution to serve your omnichannel strategy:
Analyze data and your business
Analyze your business and data before your start with the project and collaborate with your supplier to draw the right conclusions.
Think ahead
Choose a solution that covers your future order volumes, not your current ones – implementing an automation solution takes time and your business will continue to grow in the process. With a flexible system that can be adapted and extended along with demand, you'll be well equipped for the unpredictable future.
Automate intelligently
A system with 100% automation is rarely feasible, furthermore, it's not always the best choice. Automated processes are best used for the normal workload and manual processes can then be added for the peak periods.
Mechanization + digitalization = optimized warehouse operation
For an automation process to be effective, it's not only about selecting the right equipment. It's just as important to think about what will be running the system. For example, a well-tailored warehouse management system (WMS) will not only function as the system's brain but will also cover all areas of the warehouse and allow continuous optimization.
Do you want to talk to one of our experts about how to optimize your omnichannel fulfillment with intelligent automation technologies? Write a message to sales@knapp.com.