In the EU, there is an acute shortage of skilled labor in all business areas. Logistics is particularly hard hit by the shortage of skilled labor. Does your company lack the qualified personnel you require? You are not alone, because…
of all companies in Austria
of all companies in Europe
of all companies in Germany
…report curtailment of their business activities because of a lack of skilled labor [1]. We explain why there is a shortage of qualified personnel in logistics and what approaches and solutions can combat it.
The effects of the skilled labor shortage are tremendous. Many companies have to contend with subsiding sales, rising personnel costs or bearing increased workloads. The skilled labor shortage is currently affecting logistics for several reasons:
Demographic change: One of the heaviest hitters is the enormous demographic shift. The older generation heavily outnumbers the younger generation. By 2040 in Germany, the number of working residents is expected to decrease by 18 percent. In contrast, the number of resident retirees is expected to increase by 30 percent.
Lack of training: Apprenticeship placements remain vacant because there isn't enough young talent. Rising digitalization means that open posts require even more training. Furthermore, open posts are remaining vacant on average for five months, before a suitable applicant is found. This tendency is rising exponentially.
Good order situation: Many industries report a good to very good number of incoming orders. This means additional need for personnel.
Of course, some of these problems require long-term solutions. Additional apprenticeship spots, training and further education, and political conditions will take years before bearing fruit. In our eyes, these things take far too long – can you afford to wait?
Together, we can do much to combat the shortage of skilled labor! Here are three possibilities to alleviate a personnel bottleneck:
Beat the shortage with full automation
Take up the slack using semi-automation
Optimize your use of personnel by digitalizing processes and assignments
Beat the shortage of labor in logistics with full automation
In addition to addressing the long-term structural causes of the skilled labor shortage, many short-term obstacles can be quickly circumvented. With various automation solutions, you free up your specialists, allowing them to work where they are most urgently needed.
Let semi-automation take up the slack where tasks are repetitive and boring
Intelligent robots at picking stations free up personnel from monotonous picking tasks. Robots come in handy, filling in where personnel are in short supply and allowing you to make better use of your valuable qualified team members.
Picking robots handle a wide variety of items and goods with different shapes, surface properties or packaging. Even transparent, reflective or flexible items can be picked reliably, which is why picking robots can be used effectively in many sectors, including e-commerce for food retail, electronics and even fashion.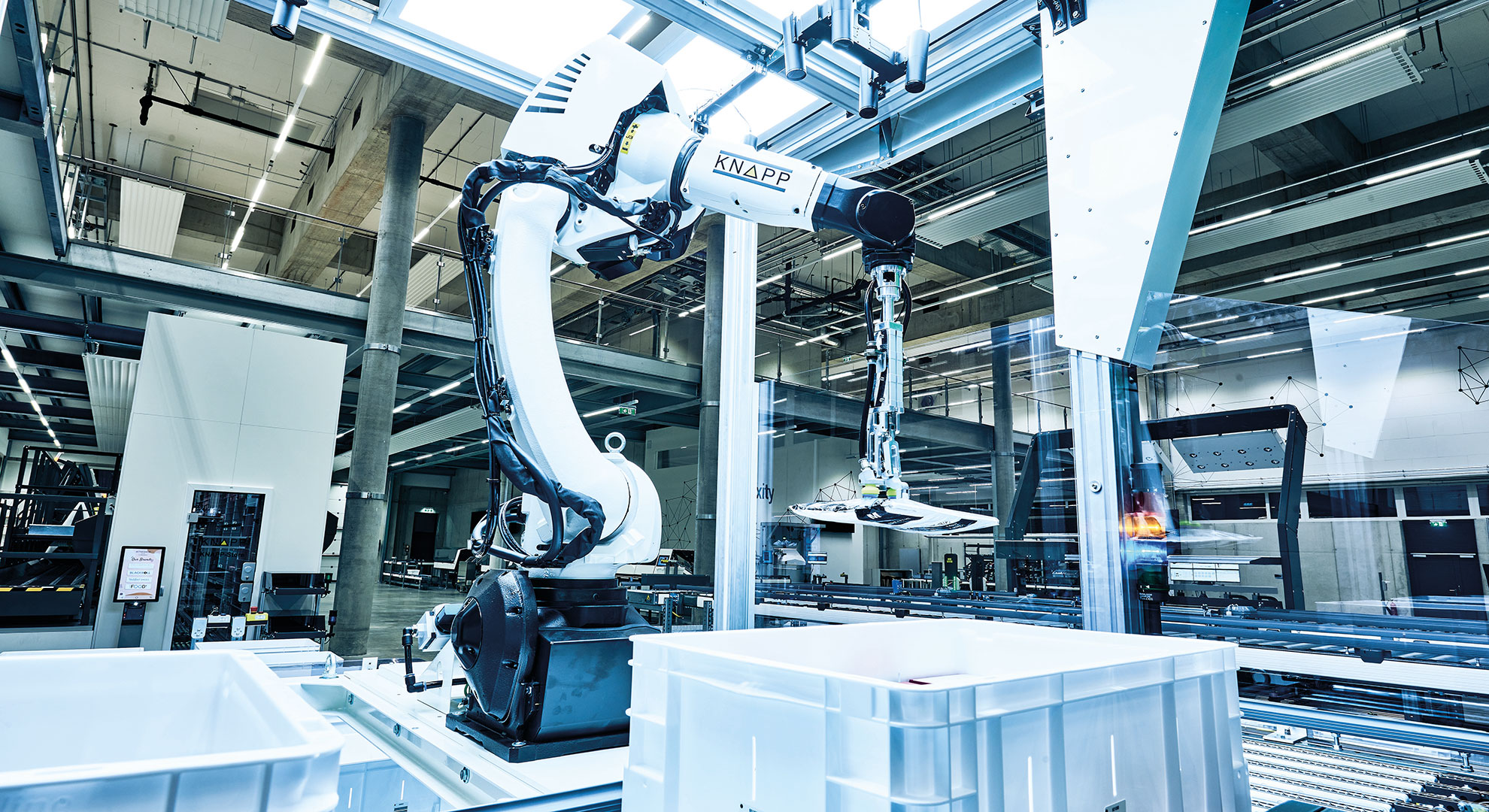 Let automation do the heavy lifting
Relief for your heavy lifters: In the food industry in particular, manual pallet formation involves heavy work. Intelligent robot solutions can process and palletize large handling units for brick and mortar retail fully automatically. Multiple picks involve placing several articles on a pallet in one movement. This not only makes your processes more efficient, it also takes the load off your skilled employees.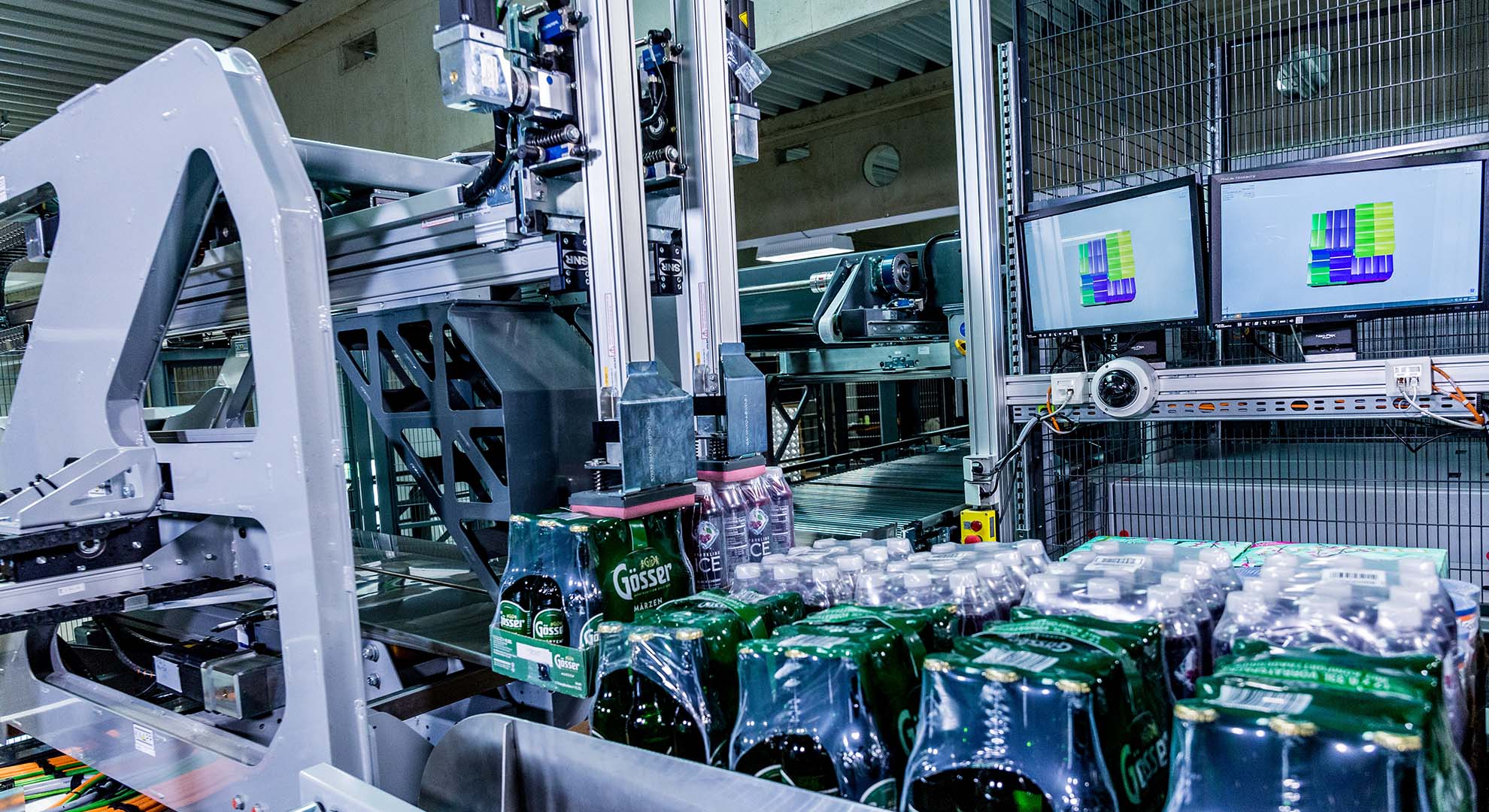 Autonomous mobile robots pick up the slack in internal transport
Automated guided vehicle systems (AGVs) or autonomous mobile robots (AMRs) connect various storage and production areas with each other. They move your goods to the right place at the right time, without tying up your skilled workers.
These automated guided vehicle systems are controlled by intelligent software and reliably carry out your transport tasks fully automatically. These robots offer you a great deal of flexibility for your processes and free up your employees for value-generating tasks. Productivity naturally increases.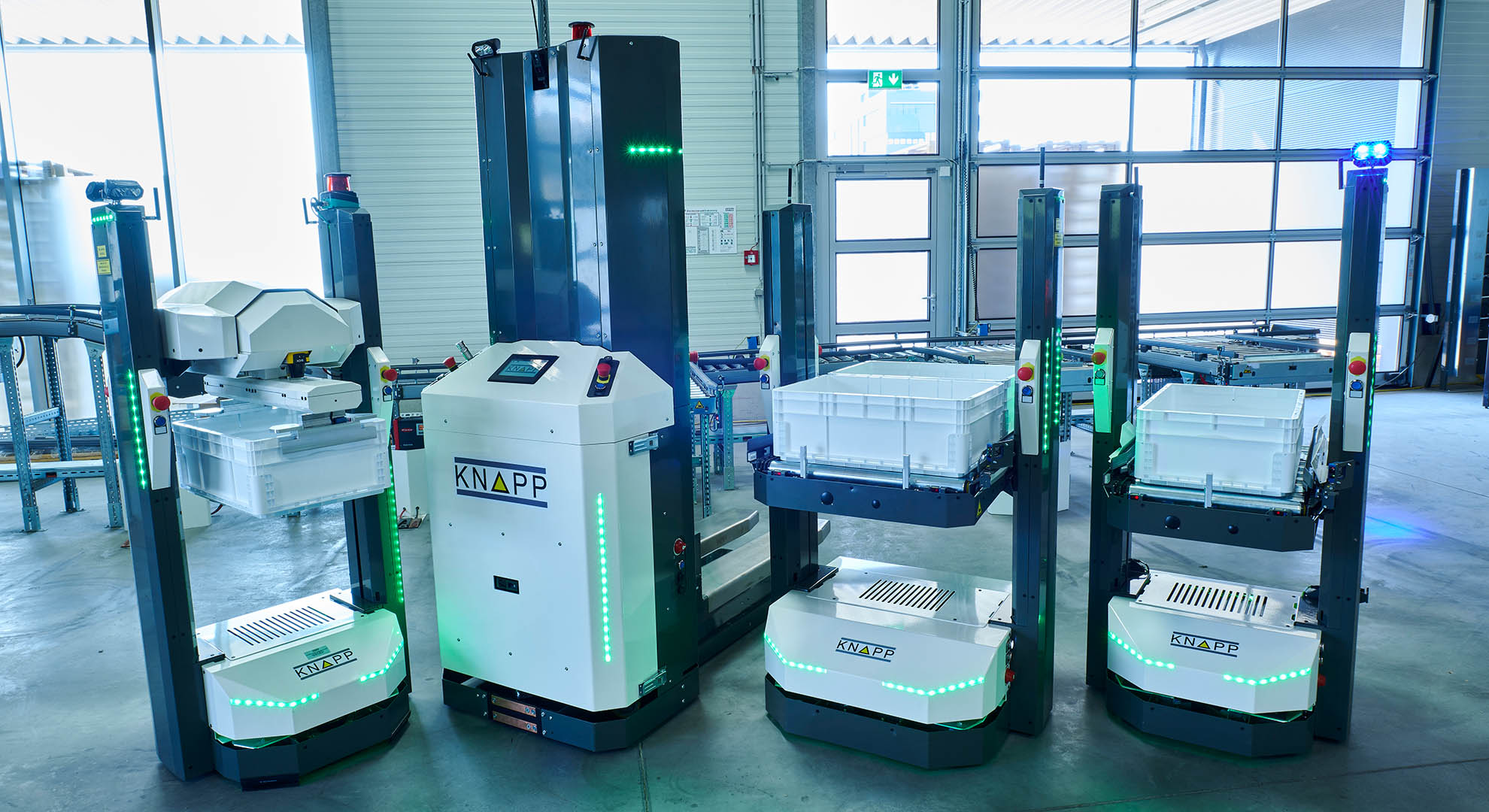 Supporting the specialists you already have
When it comes to the skilled labor shortage, it would be a mistake to simply focus on the personnel you lack. You must also think about the people that you do have! For the most effective allocation of existing personnel, there are different things you can do, and solutions that will improve their effectiveness.
One best practice example is found at pharmaceutical wholesaler Novaltia in Bilbao. With only six people per shift, they process 25,000 order lines every day. This is around 55,000 items delivered to 350 pharmacies.
Would this work for your business? We can show you how!
Ergonomic work stations are an attractive incentive
In addition to fully automatic solutions, the work place design can be an attractive help when competing for new workers. Semi-automated work stations function according to the goods-to-person principle. This is where the items are automatically transported to the employee. This eliminates excess walking and lets them work ergonomically.
Ergonomic work stations also optimize manual processes in an industrial setting. High standards in ergonomics must be met, so the physical load on the employee is carefully measured at the work stations. This is all done in real time, using biomechanical measuring methods.
Work stations featuring optimal ergonomics make the work easier for the employee performing a multitude of tasks, whether they are picking, processing returns, repacking, consolidating stock or any of a number of value-adding services. Ergonomic work stations also make the workplace more attractive, for older workers as well.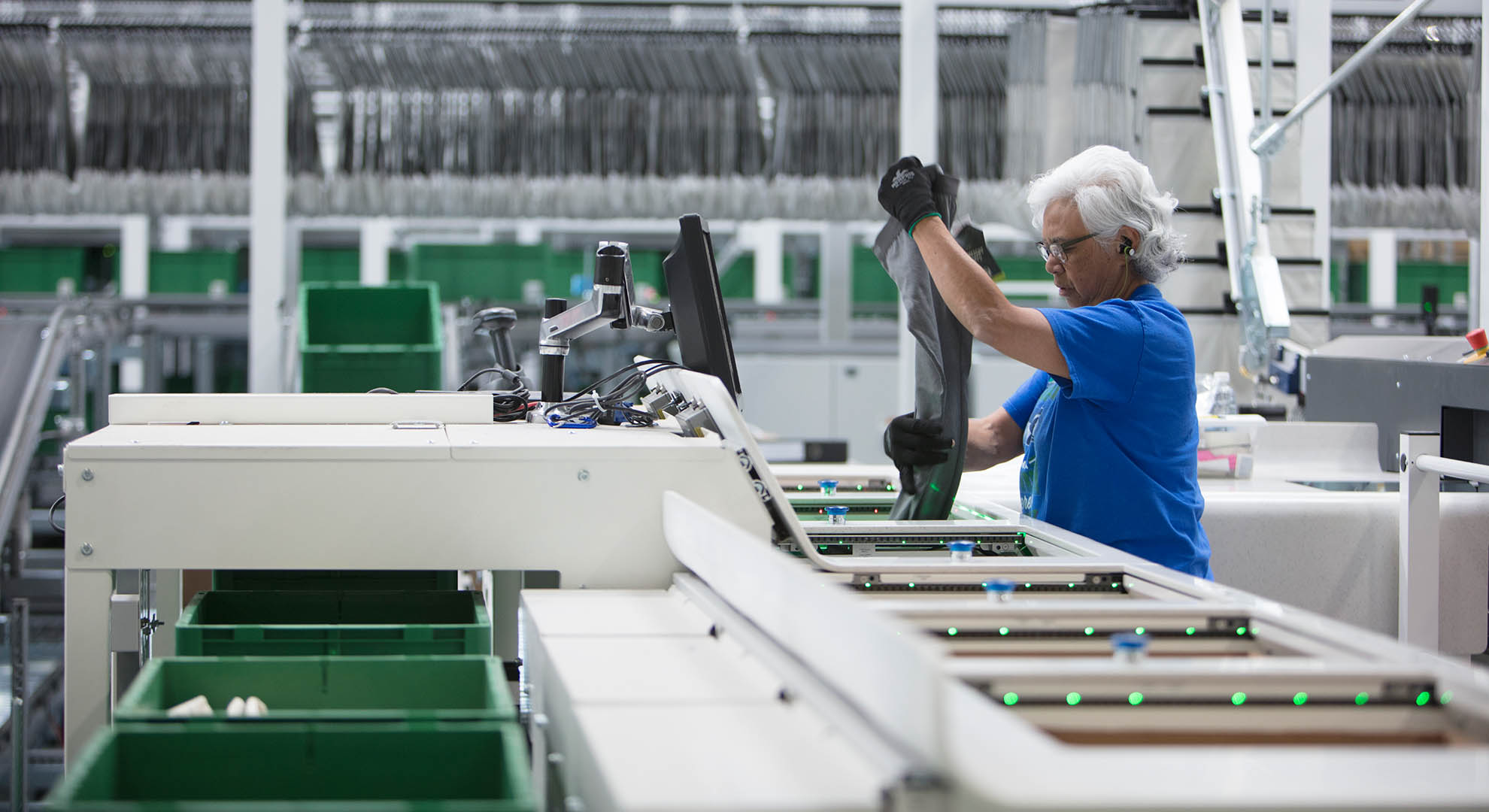 Smart work stations increase the pool of potential employees
What else can you do in addition to ergonomic work stations to be even more attractive to potential employees? As mentioned above, open posts remain vacant for average of 5 months. Here, solutions are needed to make training new employees easier and faster.
The imminent demographic shift will influence the shortage of trained personnel in logistics to an even greater extent. One opportunity to mitigate this is to quickly integrate migrants into the labor market. Additional immigration can fill emerging gaps in the labor market. Here, solutions are needed that overcome language barriers and speed up training.
This type of solution, which shortens training periods, gives you an additional advantage in the labor market as an employer. Pick-to-Light solutions, for example, are paperless, and allow employees to fill orders without the need for paper lists. What's more, the use of light signals completely eliminates the language factor. Working with this type of technology lets your personnel quickly and accurately fill orders, with a bare minimum of training.
With both stationary work stations and mobile terminals, the employee is guided step by step through the work process. These workflows include many graphical elements and colored depictions, keeping the use of language to a minimum. Short training times and high performance are ensured, along with a low error rate.
In manufacturing, there are also solutions to help combat the shortage of qualified personnel in logistics. Intelligent work stations make it possible to digitalize manual processes. This ensures a 100 percent quality check for production, both in goods-in and goods-out.
These work stations not only digitize expertise, they also provide graphical instructions. New employees are working productively right off the bat, because the solution leads them through their work step by step. When needed, the system can also correct them. This is one way to combat the shortage of qualified personnel since training is almost eliminated.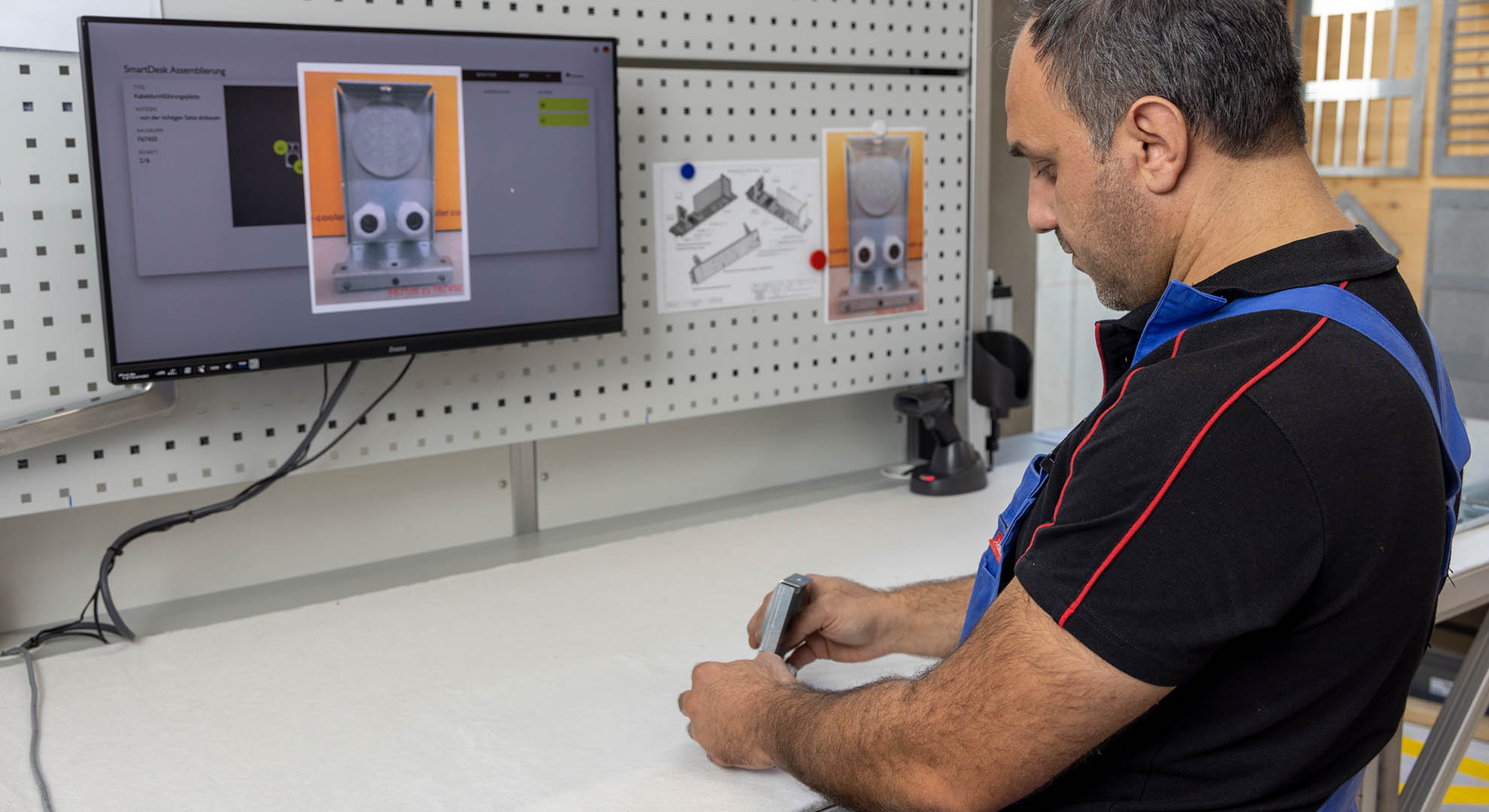 Digitalization for more flexibility and efficiency
Intelligent solutions are key to the success of modern value chains. Software connects processes and automation technologies with the people in the warehouse. When all the components are optimally integrated, you profit from increased efficiency and provide relief to key skilled personnel. Read on to discover how software can help you with your workforce bottlenecks.
More flexibility for employees thanks to smart resource planning
You want to keep your qualified people. Flexible solutions are needed today to assign employees the work they are best suited for and to win their loyalty. Intelligent shift planning is the key. Employee preferences, skills and work variety should all be accounted for. This reduces the likelihood of losing your best people.
Dynamic planning tools can integrate and prepare data such as forecasts, personnel data and availability, skills, performance and personal preferences such as carpools. These software solutions allow you to create a shift plan with just a click. The best qualified workers are automatically assigned to the plan.
An integrated app for employees helps them manage their work hours and personal preferences, creating even more flexibility. It reduces the work needed to manage data and optimize shift schedules for both companies and their personnel.
Thanks to information in real time on all the processes in the warehouse, you can stay on top of the flow of orders. When there is a bottleneck or unused capacity somewhere, the system shows you exactly where it is. The system will also make suggestions for actions and options. You can quickly move employees with the right skills to where they are needed, recognize hidden potential, and increase the efficiency of your personnel in order fulfillment.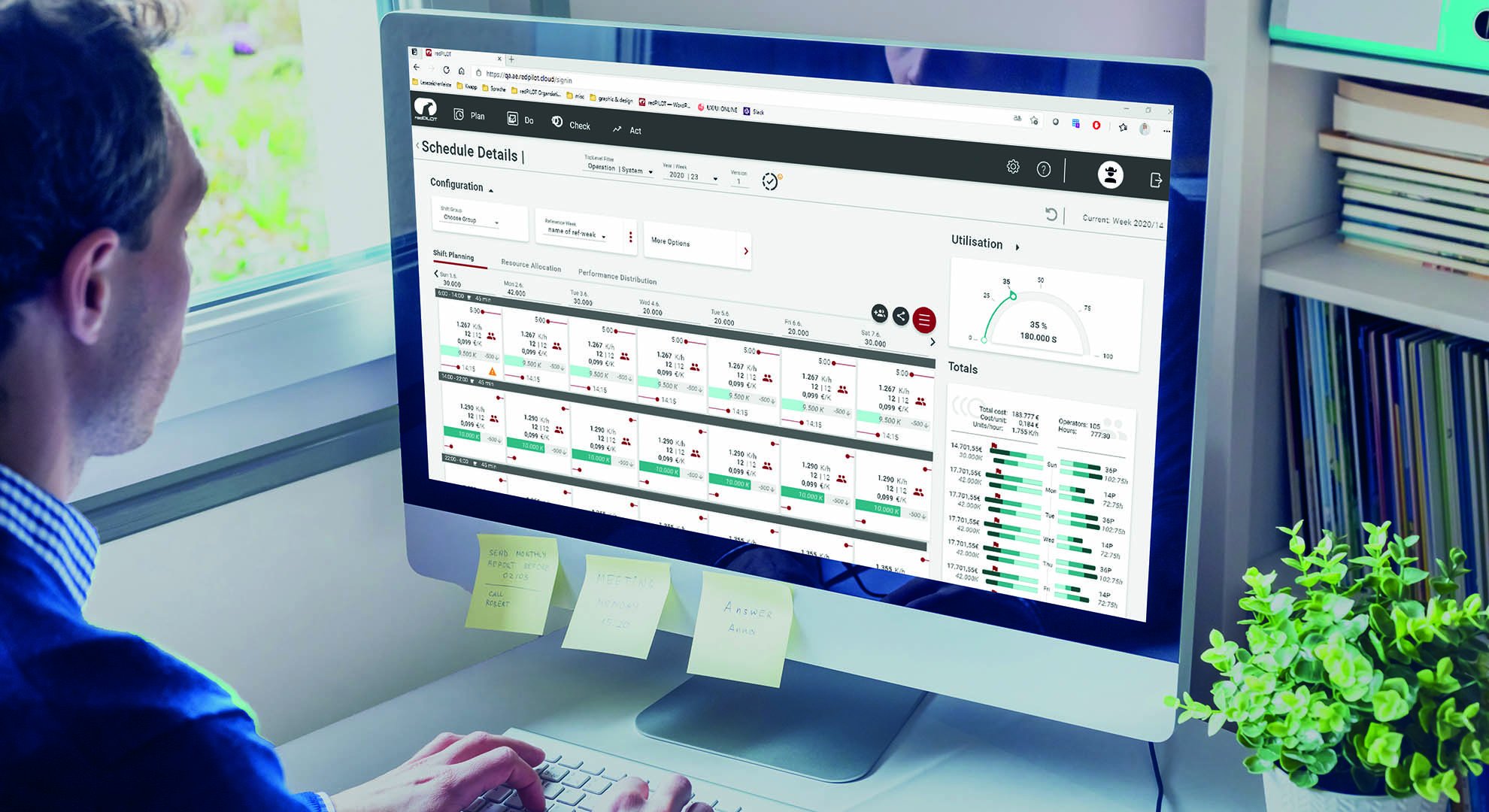 Optimal workload control through complete transparency
On a normal day, all the processes are in tune with each other, and all the employees are informed as to all the steps in the processes. Last minute peaks, however, mean stress. One event follows the next, and before you know it, the error rate is up and flows of materials and information lose their structure. The employees have to compensate for the situation by doing extra work.
Intelligent solutions, however, help you to keep track of what is going on, especially on stressful days. With the help of predictive software solutions, you can guide your business at all times with information based on good analyses.
A comprehensive warehouse management system provides complete stock transparency, where delivery planning takes place immediately upon receiving the order. A dynamic control of the workload ensures the optimal distribution of work in the warehouse.
Here, a warehouse control system is used which covers manual and automated processes. You process the workload as efficiently as possible with the personnel that you have – at all times. The bottom line? This reduces errors and their associated work, minimizes inventories, and optimizes all processes – from goods-in receipt to storage, including packaging and shipping preparation, as well as shipping consolidation and staging.
Data-driven system maintenance
Intelligent software can not only help you with your main business but can also help you to take care of your installation. This, too, helps to combat the shortage of expert workers. Here, it is all about finding just the right balance between your normal operations and the necessary servicing. Intelligent maintenance software helps you make data-driven maintenance decisions.
Using maintenance software makes your maintenance team even more productive. The software provides structured maintenance procedures and determines where priorities should be set for the best possible operation of your installation. Furthermore, your team can make data-supported decisions using real-time information faster and more easily. With maintenance management firmly under control, both your team and your installation are more productive.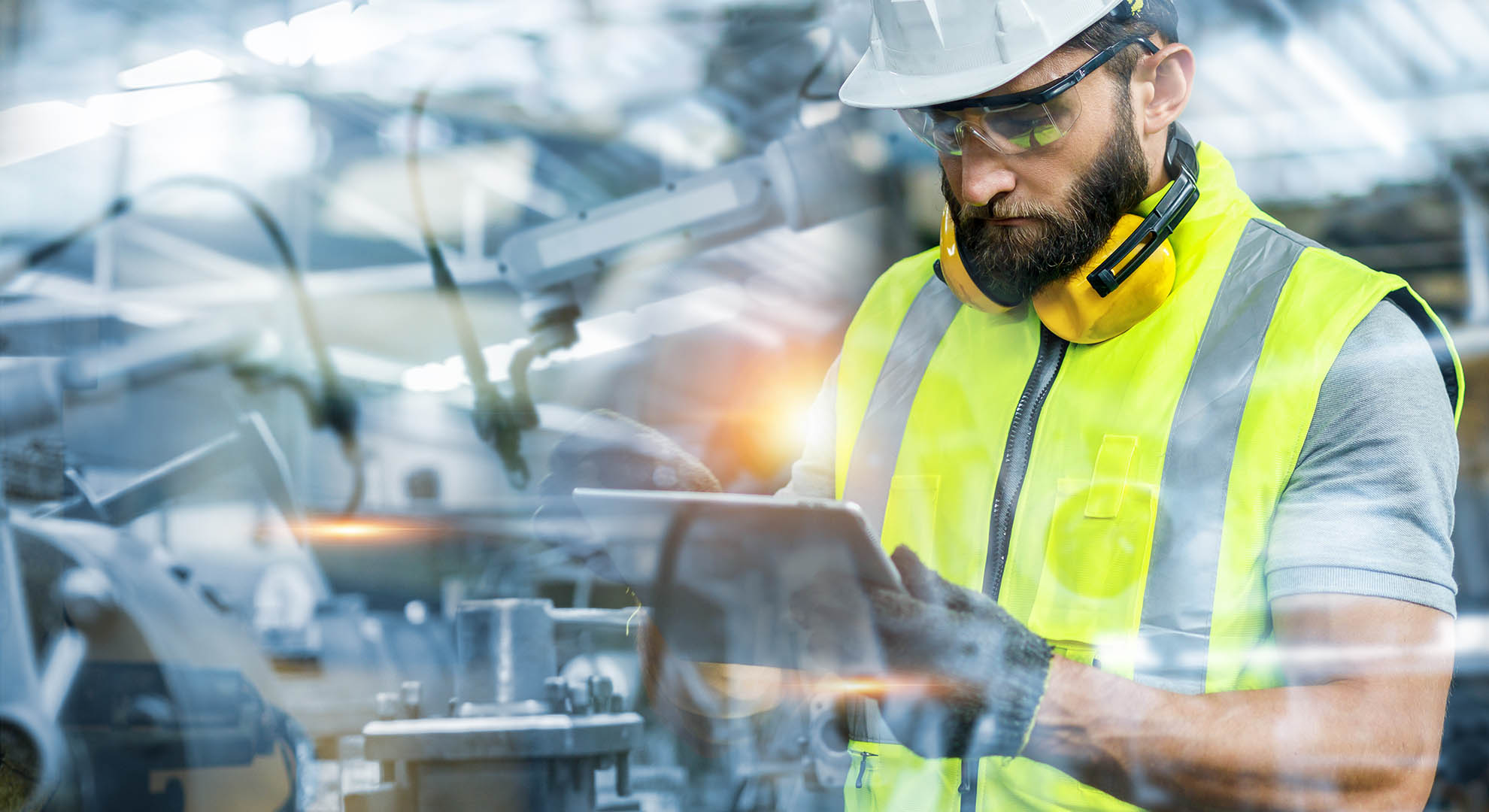 I need more skilled workers – what can I do?
Is the shortage of skilled labor in logistics affecting your company? The fact is: The shortage of qualified labor is an acute and rapidly growing problem.
The causes for the shortage of labor are various in nature. Demographic shifts, an ageing society, or lack of qualifications are just a few examples. For these problems, we are at your side as a value chain tech partner, providing you with intelligent solutions to the problem.
We offer you fully automatic automation solutions to compensate for the lack of qualified workers in logistics and support you with semi-automatic solutions. We supply the right software, for integrating all the components and helping all systems run smoothly. We help support your employees with ergonomics, rapid training and easily operated work stations.
Skilled worker shortage is a challenge – take it on! Consult with our experts today about opportunities available to you.
[1] See (Peichl, Sauer, Wohlrabe, 2022; Müller, 2022)