5 minutes reading time
Article contains videos
Making e-Commerce 

w

ork

 with micro fulfillment
Even before the pandemic, KNAPP was deploying automated Micro Fulfillment Centers (MFC) around the world. COVID-19 has surely accelerated this trend, as consumers were forced to find a way to provide food for their families while social distancing. Online adoption has grown exponentially, leaving many retailers underprepared and in a reactive state.
"
"
Industry experts believe the e-commerce market has matured more than five years in just a few months
Instore manual e-commerce fulfillment was the quick answer for those blindsided by the rapid increase in digital demand. This approach is fine for the near-term, but it's not a financially sustainable business model longer-term — especially in an industry where consumers typically shop based on cost and selection. 
We had the chance to talk to 3 experts on their perspectives on micro fulfillment, current developments and the future of online food retail. We talked to:
Vivek Sankaran, President & CEO of Albertsons
Curt Avallone, Chief Business Officer, Takeoff Technologies
Bill Stenger, Director Food Retail Solutions, KNAPP North America
Vivek Sankaran, president and CEO of Albertsons, explains why they decided to deploy two MFC pilots and why they will build more.

 
Albertsons is the second-largest supermarket retailer in the U.S. and the first national grocer to implement multiple automated Micro Fulfillment Centers (MFCs) for pickup and delivery. Albertsons' MFCs combine the proximity of brick and mortar stores with the productivity gains of an automated warehouse.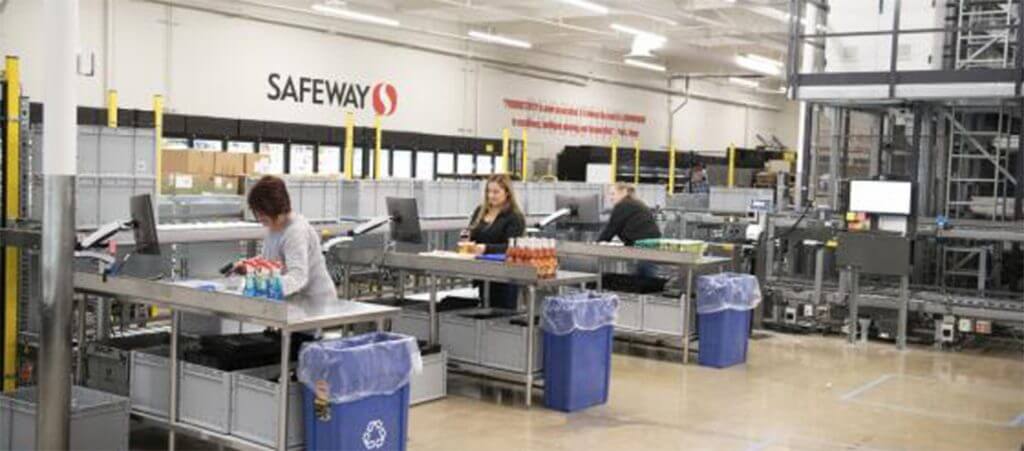 "
"
We piloted our first MFC at a Safeway supermarket in South San Francisco in 2018. Based on that successful pilot, we decided to buy more MFCs. 
Vivek Sankaran: 
The automated system consists of a series of tote boxes, rails and conveyors and is small enough to be built into the back of an existing grocery store. When an online order comes in, the robots taxi each item to a human who packs them up for delivery or pickup.
It's like a store within a store. Cases stocked with refrigerated and frozen foods line the perimeter and there are aisles of dry grocery and non-food items. In the center, an automated OSR Shuttle™ system prepares orders for pickup and delivery as part of a process designed to make service quicker and more accurate while keeping order pickers out of the way of shoppers.
At Pick-it-Easy workstations, each picker can fill up to four orders at once. This allows us to pick a lot faster than traditional e-commerce, where you're out looking around the sales floor. It eliminates all those steps.
Chilled products go into insulated totes with dry ice or gel packs. Ambient items are loaded into regular plastic totes. And while some fresh items, like produce and deli, are still picked from the main store, we pick as much as we can within the MFC. Completed orders are picked up or delivered within a 2-4 hour window with one of our trucks. We also offer one-hour delivery through DoorDash.
Vivek Sanakaran: 
We operate like a normal store from an order perspective. Incoming goods arrive from the same warehouses and, on arrival at the store, are tagged either for the store up front or in the MFC. That means no incremental deliveries or new routing logistics for delivery vendors. It's close enough to our customers that we can get same-day delivery to them. We can use last-mile partners as needed and we get a lot of flexibility in doing that.
"
"
Albertsons is expanding its partnership with Takeoff and KNAPP beyond the two MFCs already launched. We have a series of new locations we'll launch over 2020 and 2021 that will help us deliver more groceries, faster, to customers in some of our highly concentrated areas of business. 
MFCs may change the world
Takeoff Technologies robotics application just made the World Economic Forum's list of 17 ways technology could change the world by 2025. Over the last few years, Takeoff has had an exclusive technology partnership with KNAPP. Their middleware combines with our robotics hardware and software to deliver on four key vectors:  
Accuracy

 

Speed

 

Availability 

 

Profitability 

 
Curt 

Avallone

, Chief Business Officer at Takeoff, shares his thoughts on MFCs and the future of food retailing.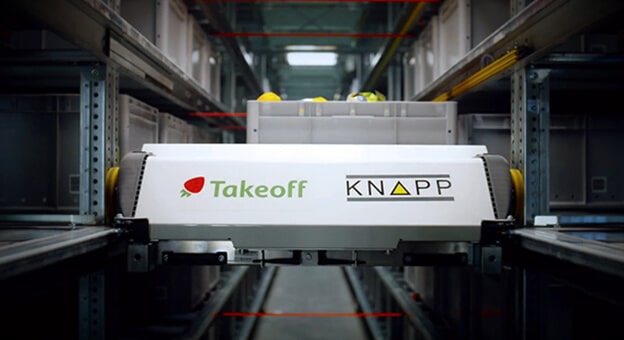 Curt Avallone:
We are living in historic times. The grocery industry is transforming its way into the future. Grocers using MFCs will be the ones getting it right first. Our MFCs operate at a much lower cost-to-serve than other e-commerce fulfillment models, solving for both the cost of assembling the order and the cost of the last mile. This results in savings for both shoppers and retail partners
"
"
Our research shows that MFCs can increase productivity by up to ten times through improved speed, productivity, accuracy and efficiency. 
Curt Avallone:
We work with nine of the largest grocers in the world. They're doing everything they can to service customers. And while store sales are up, online orders have tripled. Our MFCs help reduce the total time it takes to fill an order versus manually picking items on the store floor. With our MFCs, stores can complete a 50 item order in about six minutes, as opposed to an hour for manual picking.  
Customers are finding that e-commerce actually delivers big benefits. There is no reason to spend precious time in the store and have to wait in line.  
Down the line, you'll see there is no reason you can't get your pizza and groceries delivered together. I think the largest opportunities for growth in the grocery industry is the joining of cross channels. Thirty years ago when I got into the business, most American meals came from supermarkets. Now it's less than half, so we have to find a way to bridge the fulfillment of these experiences.
"
"
Depending on location, the MFCs are typically one-quarter to one-third the cost of building a new store and take between 12 and 16 weeks to be fully operational.  
Next-generation automation now
KNAPP and Takeoff have a four-year jump start on the rest of the industry.  We've already done the hard work:  
Preparing pre-engineering

 

Streamlining manufacturing

 

Optimizing end-to-end deployment 

 

Providing a 24/7 multisite control center

 

Creating strategic supplier partnerships

 
Bill Stenger, Director of Food Solutions at KNAPP 

North America

 

shares his thoughts on the technology that makes Takeoff's MFCs possible. 
"
"
The heart of the operation is an automated storage and retrieval system – OSR Shuttle™ –  that houses 7,000 – 10,000 totes. It looks like a lot of really long hallways with high-speed elevators. The system is operated by an intelligent software. 
Bill Stenger: 
Our OSR Shuttle™ shuffle totes that have been strategically placed based on our software algorithm. Elevators move up and down — at around 12 miles per hour — storing and retrieving totes. The totes are then conveyed to the goods-to-person picking stations, where groceries are sorted for individual orders. Each tote holds up to eight separate UPC-coded items. Dry items like paper goods that would take up too much space in the totes are 'dry picked' in a parallel process. 
The magic is determining what needs to be here or there. There's a lot of analytics in determining what SKUs go where. We know the exact count of products, what's been sold and what's still in there. Sell-by dates are checked daily to ensure fresh product and reduce shrink. Real-time information on inventory dramatically reduces or even eliminates product substitutions. 
Bill Stenger: 
The latest generation MFC now incorporates our AI-enabled Pick-it-Easy Robot, which can pick reliably at high and thus support the manual pickers. We offer an unmatched low-cost pick. Our MFCs can be profitable in as little as a year and can generate the same revenue in 10,000 – 12,000 square feet as seen in a traditional store.  
Of course, it's not just about installing robots. It's about the right balance of ingredients: the right systems talking at the right time. The right processes in the right place. The right balance of CAPEX and labor. Doing MFCs right also requires the right mix of technology to maximize ROI and productivity and provide the best possible experience for your customers.
"
"
The systems today are processing anywhere from 3,500 – 4,000 online grocery orders per week per location. 
Thank you for these exciting insights into how micro fulfillment works and what benefits it generates for grocery retailers.