4 minutes reading time
Article contains videos
The challenges in the food retail sector are manifold: Consumers' shopping behavior is constantly changing while the range of items, pack unit types and sizes is growing. Aspects such as the physical strain on employees carrying out manual picking and labor shortages cannot be underestimated either. And, against a backdrop of increasing quality, efficiency and performance requirements for store delivery, each store has different order quantities and order frequencies.
Our new RUNPICK system, short for Robotic Universal Picker, provides solutions for the following challenges:
Shortened delivery intervals and faster order completion
Different store structures
Labor shortage and physical strain
Automated systems for store-friendly delivery
RUNPICK is a system specially designed for the food retail sector. It processes the entire range of groceries fully automatically. The robot picks and palletizes large handling units of fast-, medium- and slow-moving fresh and shelf-stable goods. RUNPICK builds mixed pallets and roll containers and is well-suited for supplying stores with different structures.
Higher performance thanks to multiple picks
With RUNPICK, we are setting new standards in store delivery. The robot's major advantage over existing systems is its substantially increased performance: The system handles a variety of packaging types and processes them using multiple-item picking. Within a single cycle of movement, the robot moves and deposits several items at the same time, thereby increasing performance. The key to building mixed layers on the load carrier is to combine the items in a smart way.
The groups of items for multiple-item picking can comprise the same handling units or different unit types. RUNPICK is able to place several handling units on the target load carrier at the same time.
Store-specific picking
The stores receiving the goods differ in size, location and layout. So that employees can fill the shelves in as little time as possible, the following criteria play a decisive role in the automatic processing of groceries:
Store-friendly delivery
Customer-specific sequence of items
Packing parameters
RUNPICK meets all of this with its intelligent packing algorithm, selectable picking criteria, and its ability to pack different types of pack units. This way, the system creates order pallets that are perfectly tailored to each store.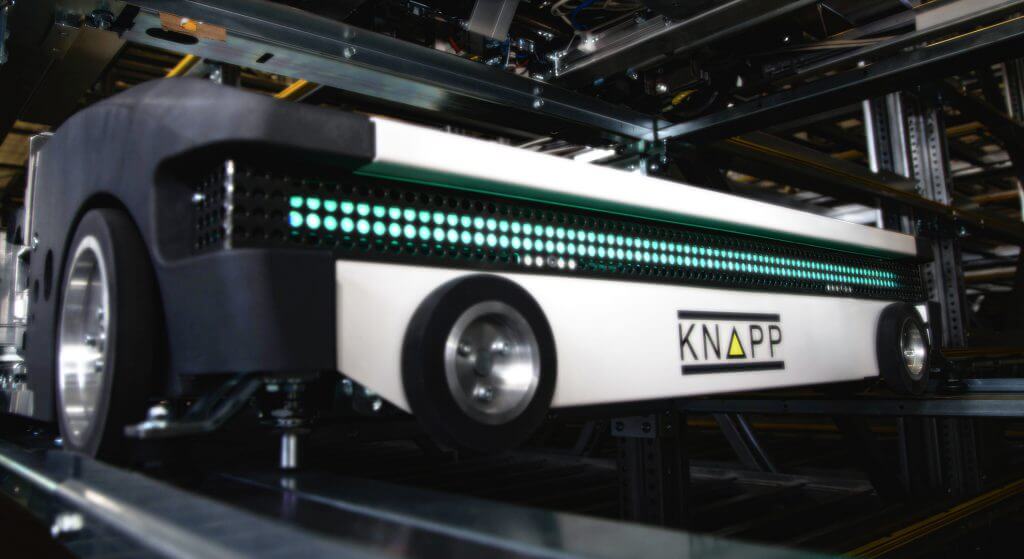 Smart combination of technologies for food retail
The software and interplay of all components are key in this solution. Our central OSR Shuttle™ Evo storage and picking system stores the handling units and retrieves them in the ideal sequence. The optimal stacking pattern is already calculated beforehand to ensure that the items are conveyed to the robot in the right sequence for stacking. Thanks to KiSoft Pack Master, our software for calculating packing parameters, RUNPICK knows exactly where to place each item on the pallet or in the roll container – in the perfect sequence for each store. Thanks to the optimal density, stability and composition of the order pallets, food retailers save time and costs.
The scalable and modular system adapts its performance flexibly to future growth and market demands.
Take a look at how our KiSoft Pack Master works:
The first RUNPICK system to start up in summer 2021
The first distribution center to include our RUNPICK solution will be put in operation in the US this summer. For test purposes, we installed a complete system – the same one we are building for our customer in the US – in Leoben, Austria. The system in Leoben is up and running. Technically speaking, we are testing the original to find potential for optimization in advance and be prepared for startup in the best possible way.
Integration in omni-channel models and solutions for store delivery
Solutions including RUNPICK are always comprised of a combination of our OSR Shuttle™ Evo, the KiSoft Pack Master and the picking and palletizing system. RUNPICK can ideally be integrated in conventional solutions for delivery to stores as well as in omni-channel models.
Omni-channel fulfillment and seamless commerce
Our new fully automatic concept, the omni-channel solution, links all sales channels, connecting all logistical processes within a warehouse: It is ideal for e-commerce and brick and mortar food retail as well as for a combination of both. Our omni-channel solutions play a vital role in networks that are composed of several distribution centers: This includes the supply of urban MFCs (Micro Fulfillment Centers), of brick and mortar stores and central e-commerce fulfillment using CFCs (Central Fulfillment Centers). Seamless commerce is more than just a buzzword.
"
"
Seamless commerce combines the best of both worlds: the convenience of online shopping with the fun experience of browsing around the shops. What's more, it brings an entirely new level of service. Gather information, reserve a product online and pick it up in a nearby store. While waiting at the checkout counter has become a thing of the past, the concept of a store is retained as an important element in the customer journey.
Regardless of the segment requiring higher performance, our solution can flexibly respond to changing order volumes. Despite the difference in packaging, only one central warehouse system is required with the OSR Shuttle™ Evo. This way, synergies can be used to the optimum, which saves space and costs. The degree of automation can be adapted precisely to the customer's wishes. Our intelligent robots come into play in the fully automatic version: The Pick-it-Easy Robot is used for online retail to fully automatically process single items while RUNPICK ensures optimal processes for store delivery.
The solution's advantages:
All logistics processes are handled in a single warehouse
One solution for all sales channels
Entire range located in one warehouse
Picking of single items, small pack units and standardized large handling units
Cost-effective and space-saving
Use of synergies: deployment of technologies for a range of different applications
Fully automatic store delivery
Of course, we also offer concepts designed for deliveries to stores exclusively. These solutions are fully automated with the help of RUNPICK. Our Flexible Case Picking system solution, for instance, allows responding to sector-specific fluctuations at all times and in a flexible manner. In the fully automatic version, the OSR Shuttle™ Evo, KiSoft Pack Master and RUNPICK again form the perfect team for the job. Included in the solution are autonomous robots, our Open Shuttles, which ensure flexible pallet transportation by moving around the warehouse freely without any aids.