2:15 minutes reading time
Have you decided on an SAP® IT strategy but are feeling less than enthusiastic about a long specifications phase? If so, you're in the right place. With our Healthcare Model Company, we offer preconfigured, installation-ready and end-to-end software modules that broaden the SAP® standard and are tailored to the special requirements of the healthcare sector.
Your benefit? Take advantage of our detailed process know-how, honed and perfected through long-term customer partnerships in the healthcare sector. This includes more than 700 installations across the globe, including large companies such as Alliance Healthcare, McKesson, ABCD, Pheonix, Noweda or Sanacorp as well as local healthcare specialists.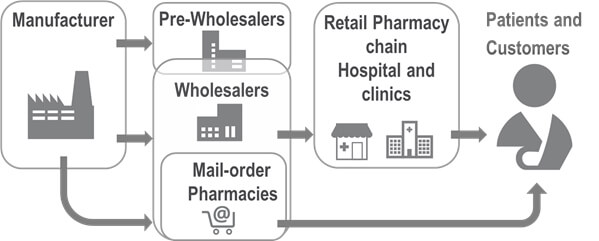 "
"
With our Healthcare Model Company, we have a framework that already includes your processes. Working together, we find out what you need beyond the framework and then implement these requirements rapidly. Through this joint effort, your key users get their hands on the SAP® EWM system early on. This saves you time and costs, reducing the risk from the start.
Project management according to the SAP ACTIVATE principle
Discover: This phase lets you get acquainted with the SAP functions provided
Prepare: Based on our expertise and years of experience in the healthcare sector, we suggest reference processes. These include specific requirements from pre-wholesale, pharmaceutical wholesale and online pharmacies – whatever fits your business model.
Explore: Using a fit-gap analysis, we determine together which processes are missing and which modules can be rounded out
Realize: During this phase, we configure the software and implement developments. Using emulation and simulation models and working with our customers, we can test all the processes without a real warehouse. This minimizes the testing and ramp-up phases of the logistics system and keeps the project risk to a minimum
Deploy and run: During all of project management, you work closely together with our implementation team until everything is running like clockwork
24/7 Service Desk: After startup, our Service Desk provides you with support, 24/7 in ongoing operation
End-to-end SAP® solution
Profit from an end-to-end SAP® solution with direct integration of the subordinate systems and use of KNAPP building blocks – proven software modules in SAP® technology.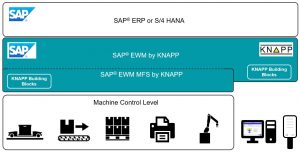 Opportunities for you beyond the KNAPP Healthcare Model Company in an SAP® EWM environment
Spot consulting and safeguarding: Through SAP® EWM spot consulting, we help you to optimize existing or ongoing EWM implementations . And even if you are implementing your solution with another EWM partner, we can still help you with safeguarding.
Automation and integration: We work with you in expansion projects for automation and integration in existing SAP® EWM solutions.
Retrofit: We offer retrofit projects when replacing non-SAP® WMS or WCS systems.
Greenfield: Start a new project with us using SAP® EWM including MFS.
Template and rollout: Working together with you, we create the template and help you roll it out internationally. Gain the profit from our extensive experience rolling out SAP® EWM.
"
"
As our implementation partner, KNAPP has optimally mapped all processes according to our requirements including the sub-systems in use. The intensive support and sharing of knowledge ranging from the development phases through to the test phases and successful startup were crucial for us. 
You want to learn more about our Healthcare Model Company?
2:15 minutes reading time
Additional Information
About KNAPP IT Solutions
KNAPP IT Solutions GmbH has been the KNAPP group's SAP® EWM (Extended Warehouse Management) expert since 2012. As an official SAP partner, over 100 SAP® EWM specialists at KNAPP provide all the services involved in the conception, implementation, testing, installation and support (including 24/7 Service Desk) of SAP® EWM. This also includes MFS for greenfield and retrofit projects, integrating automation solutions by KNAPP and third-party suppliers.