5:00 minutes reading time
Whether your project involves a conversion, a retrofit or a greenfield project, selecting the right warehouse management system (WMS) can be a daunting task. We know – it's a jungle out there. Not only do you have to find the ideal warehouse software that will make your project a success, you also need to find the right implementation partner. Here, we highlight a few strategies that will lead you through the jungle to the right WMS for your business.
Best of breed vs best of suite = SAP® EWM
One fundamental question for the world of software is: Best of breed or best of suite? Best of breed means finding the ideal software solution for each process and to connect them through interfaces. Best of suite is an approach in which a multitude of processes are covered by a single technological supplier. An all-in-one solution with many functions therefore covers all the various processes. This results in simpler interfaces and a more homogenous technical basis.
In logistics, you are not limited to one or the other. SAP® EWM (Extended Warehouse Management) combines the advantages of both approaches for all businesses using an SAP® IT strategy (SAP® ERP or S/4HANA). This logistics software covers all functions on all software levels using SAP end-to-end solutions– from WMS to machine control system. The functions can be activated as needed, just like with best of breed. SAP® EWM also scores because of its versatility. If you want to make customizations yourself because of changed or new business processes, you can, including changes to layout and process control.
KNAPP has been an SAP implementation partner since 2012. With more than 100 implemented EWM projects, KNAPP has become one of the leading SAP® EWM implementation partners internationally. We have summed up 5 reasons that have convinced our customers to take the SAP® EWM by KNAPP path out of the WMS jungle.
1. The best of both worlds: SAP and KNAPP
You need more than a comprehensive understanding of SAP® EWM, because logistics expertise in WMS and WCS (warehouse control system) is also important. SAP® EWM by KNAPP offers the best of both worlds. We combine this warehouse management software with our experience and sector expertise gained from more than 3,000 WMS/WCS projects. As a general contractor, we can provide the hardware for the logistics systems and processes as well as the software, with all the advantages from the SAP world sourced from a single supplier.
Our SAP® EWM portfolio covers everything from manual, RF- or voice-guided processes to complex, automated systems with SAP® EWM and MFS (material flow system) for new projects, and also includes expansions in automation and integration in existing SAP® EWM solutions. Retrofits and templates for companies wanting a rollout to several locations round out the offer.
"
"
We believe that in opting for SAP® EWM by KNAPP, we have chosen an incredibly stable warehouse management system, one that is well-established on the market and that will fulfill our complex requirements. What's more, the added benefit of being able to assign all the installations we tendered to a single supplier was a significant plus.
2. Software solution for every degree of automation
SAP® EWM is a flexible, scalable warehouse management system, perfect for every degree of automation. Thanks to the integrated MFS, it connects directly to the control system (PLC). This reduces the number of interfaces and allows a seamless process control in SAP®. If this is used for KNAPP automation, SAP® EWM building blocks can be used. This allows the SAP® EWM MFS to directly integrate the Streamline and Powerline conveyor systems and the OSR Shuttle™, the Central Belt System or the innovative Vision technology into SAP® EWM and to control them.
SAP® EWM by KNAPP can be implemented as the WMS and/or the WCS in the following ways:
SAP® EWM with MFS is a comprehensive WMS/WCS solution.
SAP® EWM Healthcare Model Company is also a complete WMS/WCS solution, with expansions to handle the special requirements of the healthcare industry.
SAP® EWM MFS can also be implemented as just a WCS solution.
KNAPP building blocks for SAP® EWM are used to integrate KNAPP subsystems.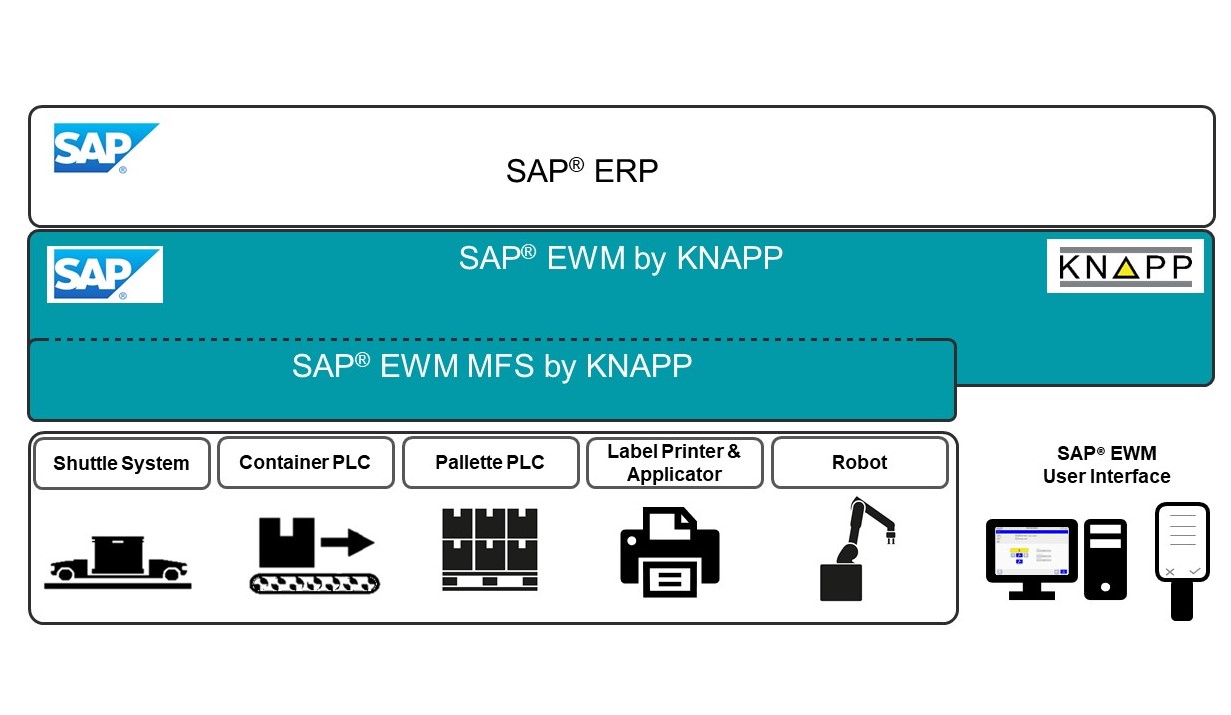 3. From KNAPP building blocks to the Healthcare Model Company approach
Our KNAPP building blocks ensure an end-to-end SAP® solution with a direct integration of all the subordinate systems. These are proven software modules that are based on 100 % SAP® coding. This closes any gaps between the SAP® EWM standards and the actual industry-specific requirements of a warehouse. These software modules can be used, for instance, to optimize the order start in the pharmacy area, coordinating it with wave planning. Our product line is growing continuously and currently includes building blocks for the integration of diverse systems, work stations and business processes.
Combined with SAP® EWM, the building blocks form the basis of a model company in the healthcare sector. Typically, more than 80 % of warehouse processes within an industry are identical. With this approach, we have a framework that already includes your processes. Together, we define what you require beyond that. A basic installation of SAP® EWM by KNAPP can then be ready very quickly, with crucial core processes such as goods-in, storage, picking and dispatch ready to go. This allows the customer's key users to start using the software early on, saving time and costs, as well as minimizing risk.
4. Project approach: KNAPP best practices meet SAP Activate
You get the best of both worlds – SAP and KNAPP – when implementing SAP® EWM projects. At KNAPP, we not only handle all the services you would expect in SAP consulting, that is, customizing the EWM and the development, we also handle everything necessary for its successful implementation. This includes end-to-end planning of the test phases and using a digital twin for the subordinate systems. Here, we combine the SAP Activate methodology with our KNAPP best practice logistics processes.
5. Customer service – around the clock, 7 days a week
The KNAPP-SAP® EWM Service Desk features our ITIL®-certified 24/7 hotline and offers comprehensive care around the clock. This service is also available to those companies who have implemented the SAP® EWM either themselves or with another SAP partner.
Our range of services includes a full service SAP® EWM hotline as well as hybrid models in which our Service Desk team offers support for your existing service organization either for defined periods (e.g. in off-peak times, at night or on weekends) or for specific processes (e.g. MFS, warehouse automation). We will also agree on and provide you with service, response and target resolution times depending on the priority of the incidents.
"
"
The takeover of our warehouse into 24/7 support was done in phases so the KNAPP Service Desk team could become familiar with our SAP® EWM with all its features. The KNAPP support is to our full satisfaction.
And now?
In line with our philosophy making complexity simple, we have shown you one possible path out of the WMS jungle. We would be happy to help you get started on your own path to a warehouse management system using SAP® EWM by KNAPP.