The idea of autonomous driving has fascinated people at least since the TV series Knight Rider. Little Gregor Schubert-Lebernegg was no exception to this. Since 2011, he has been pursuing this passion also at his job: As product manager for autonomous mobile robots, his vision is to create intelligent mobile robots which support humans at their work and provide the necessary flexibility in the logistics and production of the future.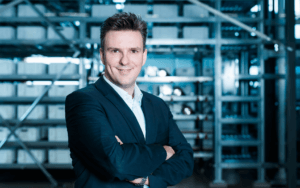 At the Fifteen Seconds Festival 2019, Gregor Schubert-Lebernegg took to the Technology Stage and enthralled the audience with his talk about consumer behaviour in relation to new technologies, especially with regards autonomous mobile robots. We also had the opportunity to talk with him about this topic.
"Any customer can have a car painted any colour that he wants so long as it is black." You stated this quote by Henry Ford at the beginning of your talk. What made you choose this quote?
This quote illustrates how customer requests were handled at the beginning of the Industrial Revolution. Work was done manually, and a high output was the goal. Back then, there was no place for individual customer requests, which is the opposite of what we have today. When it comes to cars in particular, it's only natural nowadays to create your very own model by picking and choosing certain features depending on your personal wishes and needs, and, for example, have your car painted in a certain colour or have a sound system installed. Customization is what matters today. In 2018, for example, there were 110 octillion possible variations available for the Audi A3.
This makes me think of the term MASS CUSTOMIZATION. In contrast to Henry Ford's approach, this must be a crucial factor nowadays, am I right?
Precisely. The term is a combination of the terms mass production and customization. Today's consumers want personalized products, and they want them as quickly as possible. Articles are tailored to the customers' specific requirements. This level of customization is now expected of every industry. Be it fashion, food or furniture – everything can and will be tailored to the customers' wishes. At the same time, delivery times must not become longer and, of course, the price of the product also needs to stay the same.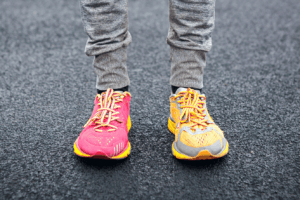 How does this mass customization affect production and logistics?
For production, this means moving away from conventional production lines to stand-alone solutions. There are more connection points and also more loops. The connections between the stand-alone solutions in production must be flexible. In logistics, the focus remains on short delivery times and flexible delivery possibilities. Simultaneously, an increasing number of different components or articles are stored temporarily. These storage times should be kept as short as possible, as well as the retrieval times.
How can we overcome these challenges?
On a superficial level, the answer seems quite simple: By using flexible, intelligent systems that are adaptable, for example, for transporting articles inside production facilities or distribution centres. I can think of road traffic as a similar concept here. Taking the train is clearly the best choice from an ecological and economic standpoint. However, most people still choose to travel with their own vehicles. Why is that? Because they have different destinations, wishes and needs.
In a production facility or warehouse, the conveyor system can be compared to the train: Articles are transported from A to B. Autonomous robots are like cars – they reach their destinations flexibly and dynamically. What you can see on the road today is the result of a process that has been going on for decades: A mix of different technologies to meet all the different requirements possible.
The following video shows how we overcome the demands placed on logistics and production at KNAPP: our system solution OSR Shuttle™ Evo+, a combination of an automated storage system, autonomous mobile robots (AMR) and intelligent software. The solution connects every location in the warehouse to the central storage system and, depending on the industry and requirements, the solution can be used for diverse processes.
The OSR Shuttle™ Evo+, a combination of an automatic storage system, autonomous mobile robots (AMR) and intelligent software.
Tell me more about the autonomous mobile robots.
The Open Shuttles combine many exciting fields of engineering: Mechanics, electronics, software, artificial intelligence, but also logistics of course. All these facets combined have helped create this product, which is easy to operate. Naturally, we also had to overcome a few challenges when creating this product, such as the navigation of the shuttles. This included factors such as route planning, responding to the environment and dodging obstacles. All these things had to be taken into account to be able to guarantee maximum flexibility and safety.
How exactly does that work?
The keyword here is swarm intelligence. The vehicles communicate constantly with one another and distribute orders flexibly. This opens new opportunities to optimize routes and transit times. It's possible to apply the right amount of transport capacity in a smart and agile way, at exactly the right time and in exactly the right place. This intelligent order distribution helps balance out the workload in the warehouse. The fleet can, for instance, be used to provide support in the goods-in area in the morning and in the goods-out area in the afternoon. In doing so, the Open Shuttles provide maximum flexibility, efficiency and cost-effectiveness.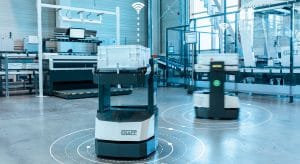 Maximum flexibility, efficiency and profitability – KNAPP customers don't need to worry about mass customization, right?
Our customers are well-equipped for individual customer requests with our intelligent all-in-one solutions. And since we keep further developing our solutions, we are also well prepared for the ever-changing consumer behaviour.
Thanks for talking with us!