Sustainable solutions for every link in the value chain
More and more customers are interested in sustainable logistics solutions. Driving this trend are consumers' increasing awareness and concern for the environment. This development is right in line with our ethos at KNAPP. With our green logistics solutions for the entire value chain, we can always offer our customers exactly what they are looking for. Find out what our logistics systems have to offer in terms of sustainability in this blog.
KNAPP – the right partner for green logistics solutions
As a technology and automation company, we take our responsibility to work towards a more sustainable future together with our customers seriously. With sustainability firmly rooted in our foundation, we know green business starts with the right choice of supplier. This is reflected in our product portfolio, which includes sustainable solutions for various industries across the value chain. Our solutions make the processes in production facilities and distribution centers, as well as for the last mile and in stores, a lot smarter and more efficient. And since the demand for green and efficient warehouse logistics technology is growing continuously, we know this is exactly what customers want. To meet current demand, we constantly enhance our products to make them even more innovative.
Virtual startup using a digital twin
If you're into video games or architecture, you might already be familiar with CGI technology. However, CGI has also become a handy tool for us here at KNAPP. We can visualize an entire installation as early as in the design phase by representing it with a digital twin. This benefits the installation and startup process in several ways. For example, all functions and the throughput can be tested and all components checked before the system is manufactured. This saves resources and ensures that working hours are used as efficiently as possible. In addition, commissioning engineers can prepare for the project ideally and start up the system more quickly.
"
"
The digital twin is a virtual representation of the customer system. Using the digital twin, our PLC technicians can test functions and processes as part of their preparations for the installation sites before they travel to the site.
No more excess air in cartons
For shipping, items are often packed into oversized cartons, which means a lot of air is shipped together with the item. This not only causes more CO2 to be produced during transport, but also uses up more space on the truck. In addition, the space that is left in the package is often filled with dunnage, which uses up valuable resources and creates more waste. To curb this, we have developed a fully automatic solution for picking and packing goods. The solution consists of a machine – developed by one of our partners who is an expert in this field – that precisely folds cartons according to the size of their contents. The cartons are then conveyed by the KNAPP systems to the right place in the warehouse at the right time. "For quite some time now, we have been working on automated solutions that reduce the amount of dunnage and cardboard used in packaging processes. This produces less waste and saves CO2," says Samuel Krauser, Product Manager and Sustainability Expert at KNAPP, about the solution.
Here's an example of the potential savings an international sports fashion retailer who ships around 6.2 million cartons per year can achieve thanks to the smart packing of goods:
Reduction in shipping volume
Reduction in CO2 emissions compared with conventional packaging methods
Reduction in transport weight
How green are our shuttle systems?
Today, warehouse space is both hard to come by and is becoming increasingly expensive. At the same time, the product range of our e-commerce customers continues to grow. Against this backdrop, how can we continue to implement efficient shuttle systems that run optimally? For future projects, the focus will be on building higher systems rather than wider or longer ones. This way, the existing floor space can be fully utilized. Since we tailor the outer dimensions of our OSR Shuttle™ Evo to the existing space, our customers can operate the system sustainably and economically. Our shuttle systems can tower over 30 meters (98 ft), ensuring that the space, especially in high halls, is used optimally. The icing on the cake: The storage capacity in our shuttle systems can be beefed up with multiple-deep storage or containers including dividers.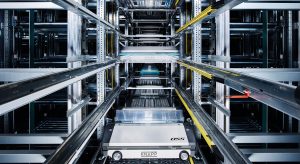 And it doesn't end there. Our shuttle systems have even more to offer in terms of sustainability. They are also equipped with an intelligent energy recuperation system that recovers braking energy and feeds it back into the shuttle system. What's more, our intelligent KiSoft software calculates the movements of all shuttles installed in the system so that shuttles only move when required. KiSoft also calculates and controls the order in which items are retrieved from the system to ensure that every order is processed as efficiently as possible, making the system even more environmentally friendly.
Quality assurance at a glance
Our systems use artificial intelligence and cutting-edge image processing systems to ensure the highest quality and effective knowledge management. With the intelligent ivii.iriis von ivii, a member of the KNAPP group, our customers can compare a taught-in image with the real image of a product to detect any deviations. One of our customers, a large bakery in Austria, uses ivii.iriis to save 6,000 of their baked goods from the bin every day. At Pankl Racing Systems, ivii's digital eye helps employees assemble motorcycle drivetrains without errors. The camera system thereby reduces costs and saves resources, while ensuring that expert knowledge is made available for new employees.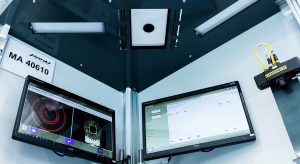 "
"
Our ivii.iriis camera system is like a lane departure warning system for the industry: It guides staff using clear and simple instructions, helping them to achieve the best possible results.
Environmental benefits of retrofitting
Step 1: Take an old OSR Shuttle™ system. Step 2: Outfit it with the newest software and mechatronics solutions and add a KNAPP Lock safety system. And voilà: You have a green upgrade for an existing shuttle system. Retrofitting allows existing installations to be reused instead of disposed of when a customer wishes to upgrade. This has huge environmental benefits: No extra steel has to be produced and waste from retrofitting the installation is minimal. Customers are also pleased about the financial benefits of retrofitting. Retrofitting reduces the costs of production, transport and waste disposal. Plus, the process can take place during ongoing operation in the warehouse or production facility.
"
"
With our OSR Shuttle™ retrofit projects, we offer our customers a solution that ensures both economic and ecological sustainability, and that extends the product lifecycle by at least ten years.
Technology and sustainability: the core of our partnership with Voigt
The family-owned Voigt group is a leading player in pharmaceutical pre-wholesale in Switzerland. Their drive for innovation and, above all, their responsibility for the environment led the company to develop a tailored, green logistics solution. For many years, VOIGT has focused on how to use energy efficiently. Together with KNAPP as a partner, they expanded their new logistics center in compliance with the Minergie standards – the highest energy standards for low-energy buildings in Switzerland. The extension, called VOLOGIN, includes heating and cooling systems that are set up redundantly and features a thermally active building structure that stores thermal energy inside the building. The system keeps temperatures in the building stable, ensuring maximum energy efficiency. The building uses groundwater as a source of energy, pumping up to 7,000 l (1,849 US gal) of groundwater per minute. To reduce the building's carbon footprint even more, Voigt equipped its roof with solar cells.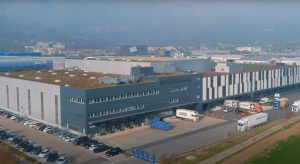 Atea's smart factory does it all – including recycling
Recycling and refurbishing products requires special logistics systems. Atea, a leading IT infrastructure company headquartered in Oslo, operates such systems in a recycling, logistics and configuration center implemented by KNAPP. Atea's business model not only includes distributing configured IT solutions according to customers' wishes but also recycling and refurbishing old and used devices. First, the devices are tested for their function and all data is erased. Then, they are cleaned and stored on pallets before they are put back into circulation. Atea's smart factory is designed to operate efficiently and save resources, and uses solar power as a source of energy.
Check out Atea's smart factory in this video:
Curious about our green and efficient solutions? Drop us a line at blog@knapp.com and let us know what you're looking for.