Does this sound familiar to you? Customers want their goods ASAP as competition and cost pressures soar. Employees and warehouse space are rare and expensive and future prognoses are becoming more and more uncertain. How do you handle that situation? We say: Warehouse robotics is the key! Find out now how you can jumpstart your logistics automation.
What is warehouse robotics?
First, let's take a closer look at the term. Warehouse robotics refers to the use of intelligent robots to automate logistics processes. These solutions can be deployed along the entire value chain, helping you store, convey, pick and fulfill orders automatically.
Warehouse robotics is an integral part of zero-touch fulfillment – maximizing automation while minimizing manual work steps. Zero-touch fulfillment substantially increases process quality and reliability as well as production speed. With intelligent robots, companies can stay competitive and generate value.
Warehouse robotics helps overcome today's challenges in logistics
Your top priority is clear: happy, satisfied customers. But these days, competition is fierce and requirements are becoming increasingly complex, making it more and more difficult for all of us to reach that goal. Customers demand faster delivery times and free returns while warehouse and personnel costs are soaring. To stay competitive, you need to harness your company's full potential. And it's automation and digitalization technology that do the trick, especially in logistics, where there are numerous opportunities for optimization.
Automatic robot technology can work day and night, helping you boost your order fulfillment around the clock. The solutions both speed up processing and ensure higher quality. This not only results in a highly efficient warehouse with lower lead times and costs, but also in happier warehouse employees. Since warehouse robotics take care of monotonous and physically strenuous tasks, employees can focus on essential, value-adding tasks, and short-term shortages in personnel can be covered.
Robots feel at home in a wide range of warehouse settings
Where can you deploy intelligent robots in your warehouse? Their scope of application is huge:
Storage
Picking
Palletizing
Transporting
And more
Warehouse robots are a plus in all areas of warehouse logistics. Now, let's zoom in on some of these areas.
Decanting
When goods arrive in the goods-in area, they have to be repacked into storage containers. Picking robots can do this highly efficiently as they identify, grip and place the goods into the storage containers fully automatically. This saves time and simplifies data capture and the storage process.
Picking
Warehouse robotics is made for picking and handling orders of any kind. Automating these processes in your warehouse will ensure fast and precise order fulfillment and increased productivity, thereby boosting performance and reducing costs.
Picking robots handle both automatic single-item picking and batch picking. In batch picking, several pieces of the same type of item are picked for multiple orders at the same time.
But warehouse robotics can do even more when it comes to picking. They can automatically repack pre-picked items on an overhead conveyor system or sorter system, and pick items on pallets and roll containers too.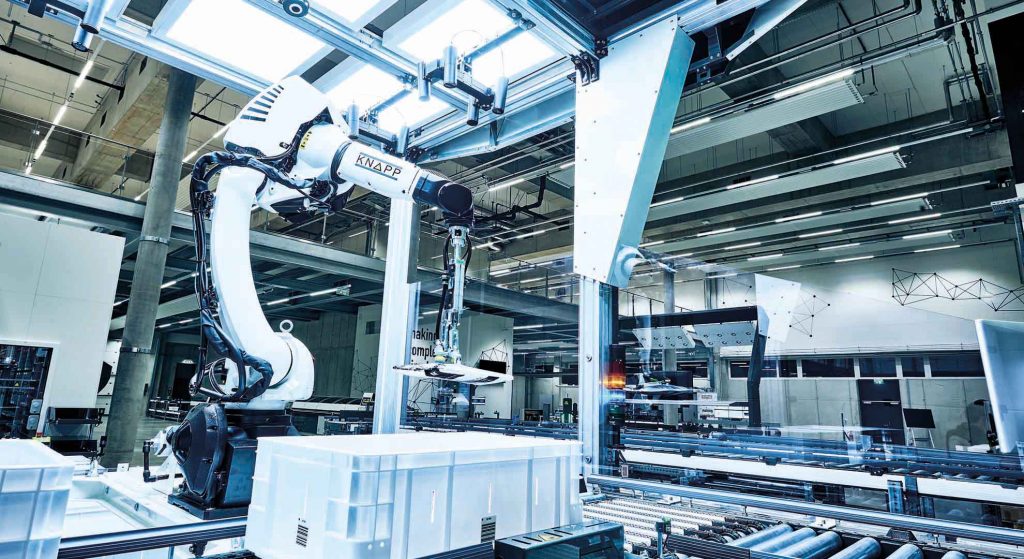 Warehouse-internal transport and route management
Depending on the warehousing requirements, any number of processes in the warehouse – whether goods-in, storage, picking, packing or goods-out – can be handled with different work stations. Autonomous mobile robots interlink all areas of the warehouse, ensuring that every work station is supplied with the right items at the right time.
Packing and palletizing
Warehouse robotics are also a great help in the packing and palletizing processes. Automatic folding and lidding machines pack the ordered goods as efficiently as possible. The folding machine checks the height of the carton contents and folds the carton mechanically to the minimum height. After folding, the cartons are provided with a lid fully automatically. This ensures that every shipment is sent in the ideal packaging. Reducing the carton size in this way saves considerable space on the pallet and subsequently on the truck.
The packed goods are then either shipped as individual cartons or stacked on pallets for shipping. Creating stable pallets on roll containers is a basic requirement for food distribution in particular. Warehouse robots arrange items on the roll containers according to predefined specifications, uniting the picking and palletizing processes and providing relief to employees in the warehouse, as they no longer have to do the heavy lifting and carrying.
Key technologies of warehouse robotics
Now that you know where warehouse robots can be used, let's take a look at the robot solutions themselves. There is a wide selection of automatic robot solutions for different processes in production and warehousing:
Picking robots
Transport robots
Robots for storage, sequencing and sorting
All these solutions increase a warehouse's level of automation. Next, we'll shine a spotlight on each of them:
Picking robots
Intelligent picking robots fill orders quickly and accurately. Different grippers along with AI-based object recognition and grip point determination allow this kind of robot to handle a wide array of items. It can be used in a number of different process steps. Whether it's bin picking, full-case picking or palletizing, picking robots can handle it all.
In bin picking, the robot takes items out of a container one at a time. Thanks to intelligent object recognition, it can reliably grip various items with different properties, even goods that were heat-sealed in shiny foil. In comparison, robots for full-case picking handle large handling units and stack them on pallets or roll containers.
Autonomous mobile robots
Autonomous mobile robots are the best choice when it comes to flexibly transporting goods around the warehouse. They form the bridge between different warehouse areas, quickly and effortlessly supplying them with goods, raw materials and components. There are different types of mobile robots for different applications. Mobile robots, for instance, can transport containers or pallets, or can be used as a complementary solution in connection with a storage system. Thanks to their innovative technology, these robots act with complete autonomy, don't need any aids, and are 100 % safe for people.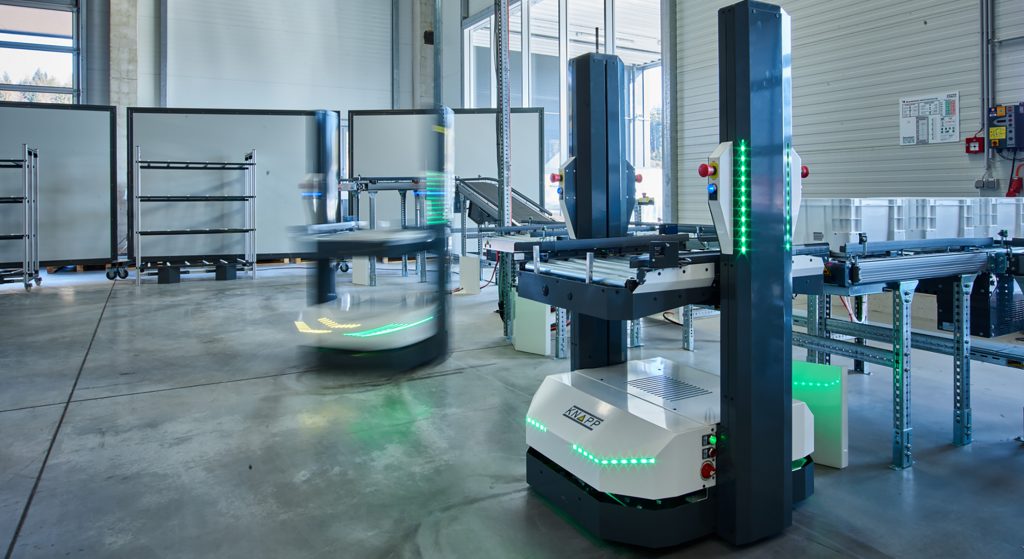 Shuttle systems
Shuttle systems are the most efficient automated storage systems. The systems use shuttles to store and retrieve containers, cartons and trays and provide the items to connected work stations. The shuttle systems allow single-deep or multiple-deep storage depending on the rack types used, forming the basis for other logistical processes, such as buffering, item supply and sequencing.
Pocket sorter
In recent years, the demand for overhead conveyor systems such as pocket sorters has been rising in the e-commerce segment. Against the backdrop of unpredictable markets and increasing orders for single items, these systems offer both maximum performance and full flexibility.
The pocket sorters store and sort hanging goods one by one. Since the sorting system is connected to every work station, every pocket can be automatically conveyed to each work station, ensuring smart and quick sorting processes. Every pocket is equipped with RFID technology, making it possible to trace and identify each and every item.
The premier class of pocket sorting systems are the ones with pockets that open automatically, allowing the system to continue operating at maximum speed, as no manual intervention is required. With these pockets, goods can be automatically transferred to containers, cartons, roll containers and shipping bags in any area of the warehouse.
Software and AI in warehouse robotics
What makes warehouse robots run smartly and smoothly is software. The software behind these technologies covers warehouse management as well as machine control.
The higher-level warehouse management system (WMS) registers the incoming goods and allocates them to the ideal storage location. It also provides live information on stock and the exact locations of all items and calculates when items need reordering. This helps to keep warehouse stock at a minimum while also ensuring that highly requested items are in stock for the following day.
Software also plays an essential role in controlling machines and robots. For instance, intelligent software is able to calculate the ideal packing pattern for pallets or manage whole fleets of autonomous mobile robots. Today's picking robots are also equipped with artificial intelligence (AI), enabling the robots to continuously learn how to grip items more reliably.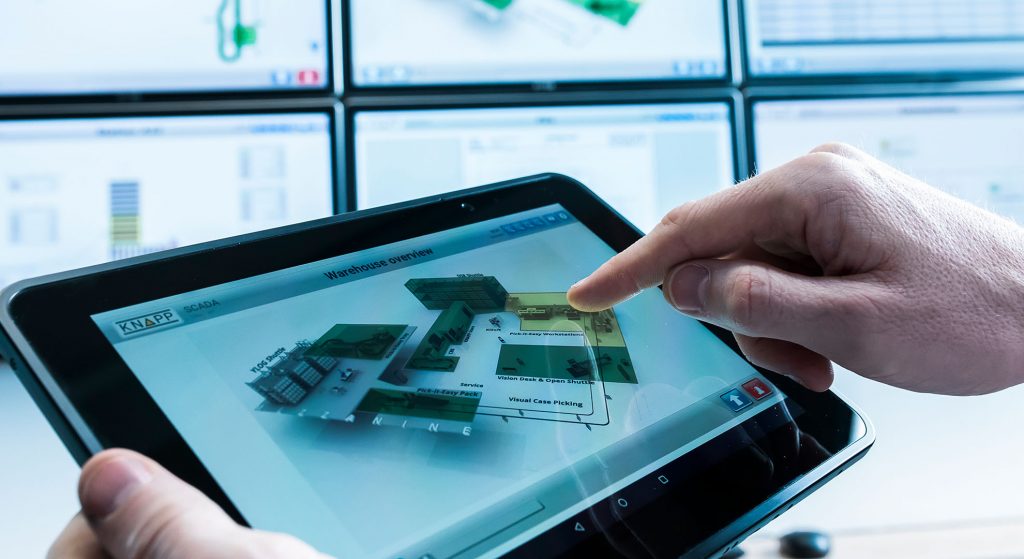 How you can get started with warehouse robotics
Now that you know what technology is out there and in which areas it is used, there's the million dollar question left: When does automation using warehouse robots make sense? And which boxes does your warehouse have to tick? Help jumpstart your automation with this checklist:
The right master data management
Well-kept master data is a must for getting your automation up and running. The best automation solution is only as good as the data it uses. For example, if the data on an item lacks records on the dimensions, the automated warehouse will not be able to store the items efficiently.
Item properties and quality
The properties and quality of items is critical for automation. Do the measurements of the item really fit the specifications? Are cellophane-wrapped packs securely sealed? And what about the stability of the packaging? Quality is achieved in your own production facility as well as along the supply chain upstream and warehouse automation is successful only when product quality is sufficient.
Detailed analysis of internal processes
Take a close look at your internal processes. Which steps does the item go through? Do you process many individual items? Do you have to apply labels to different parts of the item? Knowing your processes makes planning the most efficient automation solutions easier. The simpler and more structured your processes are, the easier it is to automate them.
Defining a clear goal for your warehouse
You aren't sure yet what your automated warehouse will look like when it's finished? No problem! What's important is that you have a clear vision of what you want to achieve with your warehouse. Your goals are the basis for deciding which solution best matches your requirements. The choice of technology always depends on a company's goals, whether it's striving to achieve quantifiable minimum throughput or setting a time limit for order fulfillment.
Getting employees on board
Last but not least, have your team play an active role in the transformation. Contrary to popular belief, the human worker is at the core of automation solutions. The solutions support humans; they don't replace them. That's why it's important to integrate employees in the process from the start. Experience has shown that the most successful operations teams were able to see and test the systems before project start.