Software
A distribution centre has to support all business processes in the best way possible. Software is what links the business processes to the warehouse technology. It's the warehouse operating company's tool for achieving consistently efficient and effective warehouse operation. Nine times out of ten, a made-to-order software system makes up a small proportion of the total investment for an automation solution; however, it makes up a much larger proportion of the success of a business. KNAPP covers all levels of software from warehouse management to individual optical sensors with its smart software solutions. As a result, it safeguards the productivity of the entire warehouse. The KiSoft and SAP® EWM product lines provide the best of both software worlds from a single provider.
Watch video: Smart Software Solutions
Design and implementation – bringing software to life
Software is invisible and anonymous in the warehouse. How can processes and functions within a complex warehouse be validated in terms of customer requirements? And before any components are even produced?
As early as the sales stage, KNAPP begins using the BPMN method for modelling business processes. Industry experts work together with the customer to develop an individual solution and bring the software to life. Simulation and emulation models simulate the virtual installation of the software to increase transparency and quality in project management as well as to shorten project lead times. The warehouse comes alive before installation work has even begun. This minimizes risks and makes project implementation considerably more efficient, all in line with KNAPP's zero defect philosophy.
easyUse – modern man and machine communication
Ever increasing digitalization represents both an opportunity and a challenge. Tremendous amounts of data need to be processed and made available to the user at exactly the right time and in the best possible form to assist them with their work.
KNAPP meets these demands with easyUse, bring cutting-edge man and machine communication to all software levels within warehouse logistics. By consistently sticking to design principles, easyUse creates a unique user experience, presenting information in a user-friendly way on the most suitable terminal.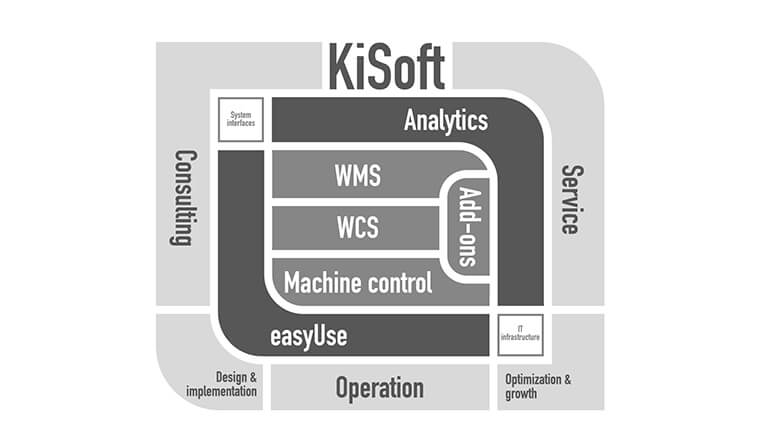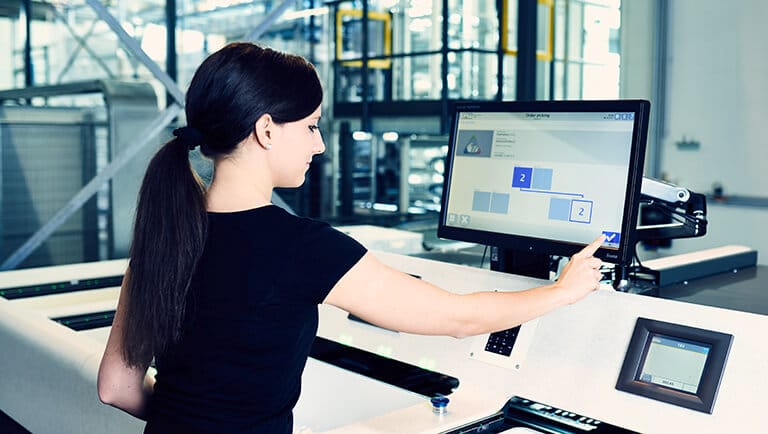 KiSoft is the KNAPP group's own software product line. The extensive KiSoft series has been tried and tested countless times and combines a wealth of experience with innovation. KiSoft can be used to design made-to-order software solutions for all processes and across all levels, from a single supplier. This could be WMS and WCS right through to machine control systems. Such evolutionary software solutions mean that KNAPP has entered a new dimension in logistics. KNAPP continues to develop its software portfolio calling on its years of experience, know-how and expertise. KiSoft reduces costs while simultaneously achieving maximum performance and availability.
Its clearly sub-divided, modular system architecture guarantees the highest degree of flexibility and scalability. KiSoft focusses on configuration rather than development, which minimizes customer-specific developments in the project. This not only reduces costs but also the risks involved in rushed implementation. KNAPP has combined efficient implementation with simple integration in diverse Host systems, together with defined lifecycle support and maximum investment security with the all-in-one KiSoft software solution.
KiSoft offers:
Best-practice processes for various, highly-specialized sectors
High level of standardization
Scalable solutions
Easy installation and expandability
Complete control and transparency in the warehouse
Roll-out solutions for more than one site
Investment security
Below is a selection of solutions from our KiSoft portfolio:
Warehouse management with KiSoft WMS
Efficient organization and intelligent management are the most important basic requirements for successful warehouse operation. KiSoft WMS is the key to financial success. KNAPP's comprehensive Warehouse Management Software plans, monitors, controls and optimizes all processes, from goods-in to internal warehouse processes, through to goods-out. It also offers a wide range of additional processes such as quality assurance and customer returns. Main functions such as stock management, warehouse models, storage strategies and master data management serve as a basis for this, together with numerous additional functions.
KiSoft WMS makes it possible to achieve the flexibility and transparency needed for the demands of various sectors. It can be used in manual as well as semi and fully-automatic warehouses.
Warehouse control system KiSoft WCS
The KiSoft WCS warehouse control system controls and coordinates the flow of goods in automated areas in real time. It controls, monitors and optimizes processes and takes care of integrating subsystems.
Such subsystems include the OSR Shuttle™ storage system, the Pick-it-Easy Robot and the intelligent Open Shuttles. KiSoft WCS integrates the interface for the respective machine control system and transfers individual tasks to be processed. What's more, manual processes can be implemented in the KiSoft WCS using radiofrequency or voice technology such as head mounted displays, which can provide support for manual picking, for example.
KiSoft WCS also serves as an ideal retrofit solution that can integrate existing systems; KiSoft WCS takes over the control system of third-party systems.
Comprehensive coverage all the way down to the machine
KNAPP offers comprehensive, uniform software solutions right through to machine level, such as solutions for the OSR Shuttle™ storage system, the Streamline and Powerline conveyor systems, the Central Belt System, the Pick-it-Easy Robot or handling systems. User-friendliness and flexibility are at the heart of these uniform software solutions. All interfaces come in easyUse design, making them clear and intuitive as well as offering smart and efficient man and machine communication. Important information is displayed for the user at exactly the right time and ergonomic touch screens ensure that machines are easy to operate.
The software solutions for machine control systems offer:
Control and monitoring of operation
Visualization of the operational states through to I/O level
Selecting the desired mode of operation and operating parameters
Manual control of individual components
Individual function testing
Support with maintenance and troubleshooting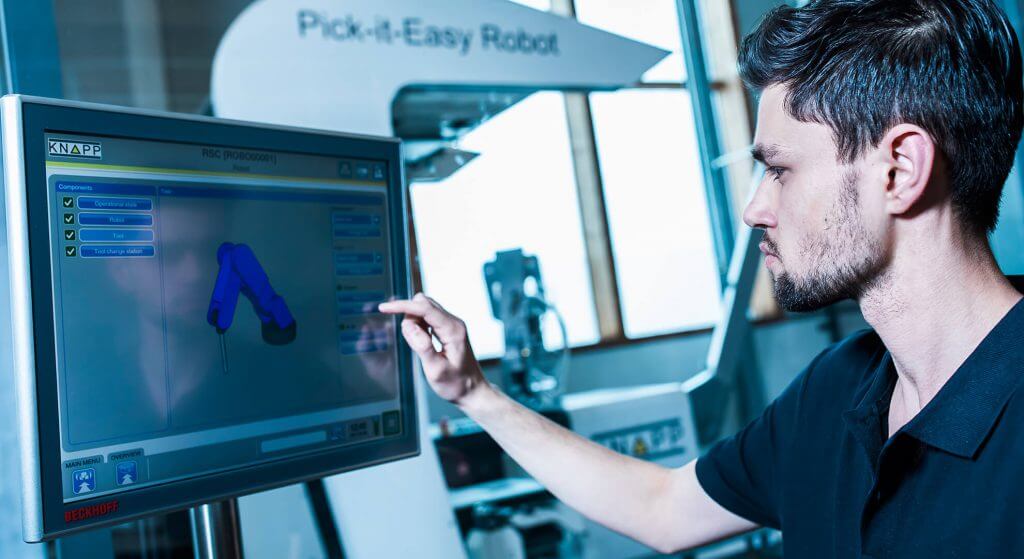 Visualization with KiSoft SCADA
Uninterrupted system availability is one of the most crucial requirements for any system. KiSoft SCADA increases system availability and therefore profitability, without any additional investment in automation technology. The clear visualization of all the components within the system means that KiSoft SCADA provides a complete overview of the technical state of the entire system including third-party components. What's more, KiSoft SCADA provides complete transparency, optimizes preventative maintenance and speedy troubleshooting, as well as helping to deploy service technicians efficiently. KiSoft SCADA can be used on various terminals such as the multi-screen KiSoft i-Point, tablets and smart phones.
It's the ideal addition to the KNAPP group's service solutions. It forms a particularly strong portfolio of solutions together with wearable services and Service 4.0™.
KiSoft SCADA offers:
A complete overview: from a 3D overview through to individual sensors
Maintenance can be planned according to use
Swift and simple incident resolution
Optimal availability and performance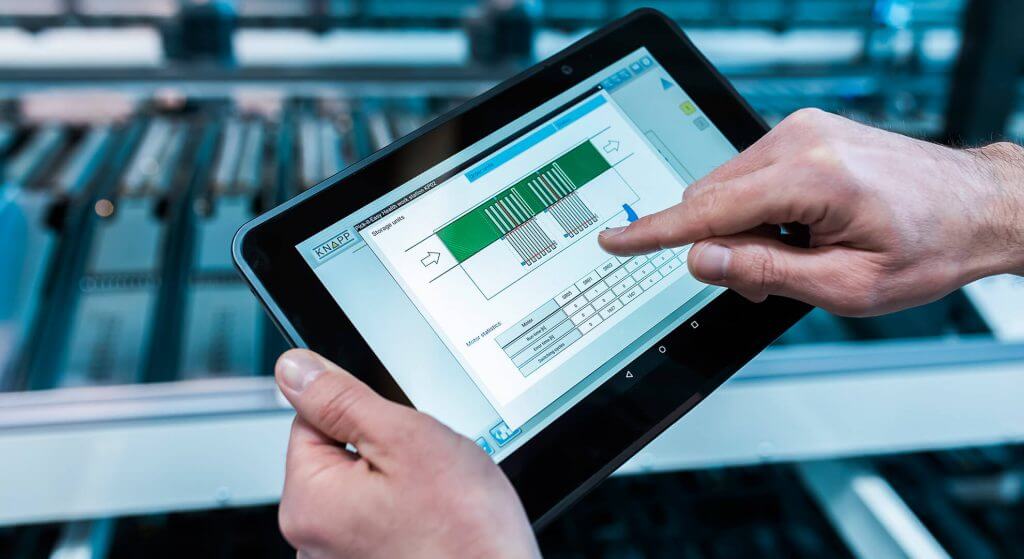 Packing arrangement calculation with KiSoft Pack Master
The KiSoft Pack Master is a special software developed to calculate the best possible stacking patterns so that goods can be packed and stacked in or on top of load carriers (pallets, roll containers, containers, cartons) as effectively as possible. It considers numerous stacking criteria to calculate the optimum position of single items and pack units. Requirements such as maximum stability, best possible use of volume or loading load carriers according to store, are the most significant.
KiSoft Pack Master can be used in various ways depending on the degree of automation:
Manual picking: KiSoft Pack Master displays information on the source, quantity, position and target on either a monitor or smart glasses.
Semi-automatic picking: KiSoft Pack Master specifies the retrieval sequence out of the automated storage system (e.g. the OSR Shuttle™) and displays all relevant information on a monitor at the work station.
Fully-automatic picking and packing: KiSoft Pack Master manages the entire packing process. It calculates the ideal retrieval sequence, determines the stacking pattern and specifies the necessary movements for the stacking machines or robots.
Image recognition and processing with KiSoft Vision
KiSoft Vision is a software programme belonging to the Vision product range and is the central technology in KNAPP's zero defect warehouse. In every process step, from goods-in to goods-out, quality assurance and quality-enhancing measures are put into place using the image recognition and image processing technology KiSoft Vision. As a result, KiSoft Vision lowers costs incurred by errors and boosts efficiency in each and every step of the process. It supports manual, semi-automatic and automatic processes and ensures an increase in quality, a reduction in costs, transparency and continuous traceability along the entire supply chain. Innovative technology using augmented reality makes natural, intuitive man and machine communication possible in both manual applications and in servicing. KiSoft Vision stands out thanks to its high capacity for integration. Existing systems can be easily retrofitted with the technology, guaranteeing maximum system performance with a manageable investment.
KNAPP has a product in the Vision range suitable for every single central process in the warehouse: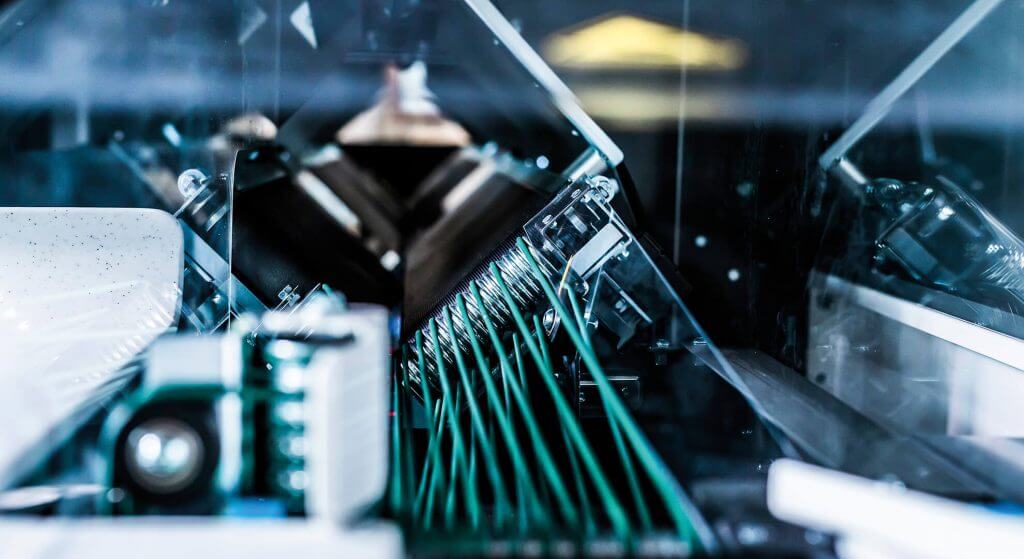 With SAP® EWM (Extended Warehouse Management) by KNAPP, the company is offering a transparent solution that allows customers to programme and make adjustments themselves. SAP® EWM by KNAPP is the right solution for anyone wanting to implement an SAP® IT strategy and looking for an outstanding logistics solution. Customers not only receive a comprehensive SAP® solution for very little investment, they also benefit from the KNAPP group's expertise. The KNAPP subsidiary KNAPP IT Solutions provides SAP® EWM by KNAPP.
Experience and competence
KNAPP relied on its wealth of experience and expertise in delivering solutions to over 1,700 sites around the globe when developing SAP® EWM by KNAPP. Over 80 % of the warehouse processes are identical within the same sector; that's why SAP® EWM by KNAPP is pre-configured based on best practice solutions. The focus of a project is developing and implementing processes that are specific to the customer. This guarantees a short implementation period and minimal risk. A basic installation of SAP® EWM by KNAPP is ready after a very short period of time, with crucial core processes such as goods-in, storage, replenishment, picking and dispatch ready to go. The increase in productivity following the introduction of a SAP® EWM by KNAPP system lies between 10–30 % on average.
Solution for all levels of automation
SAP® EWM by KNAPP is the solution for all levels of automation. SAP® EWM by KNAPP can be connected directly to the control system thanks to the integrated MFS (Material Flow System). What's more, KNAPP SAP® EWM offers compatible drivers that provide a real-time control system. This enables the SAP® EWM MFS to control the Streamline and Powerline conveyor systems, for example, or high-performance storage and picking systems such as the OSR Shuttle™, the Central Belt System or the innovative Vision technology. The usability of user interfaces has also been optimized in SAP® EWM by KNAPP; all information required is displayed right on time. Touch screens make operation even easier.
Transparent Supply Chain Execution
SAP® EWM by KNAPP is the solution for transparent and efficient Supply Chain Execution. Integrated modules calculate walking times, simulate workloads, generate the staff shift plan and calculate bonuses, for example. The integration of SAP® TM (Transport Management) and SAP® EM (Event Management) enables optimization to go far beyond the warehouse; for example, incoming and outgoing streams of goods can be optimized, as well as carrier and freight cost management, track and trace, and more.